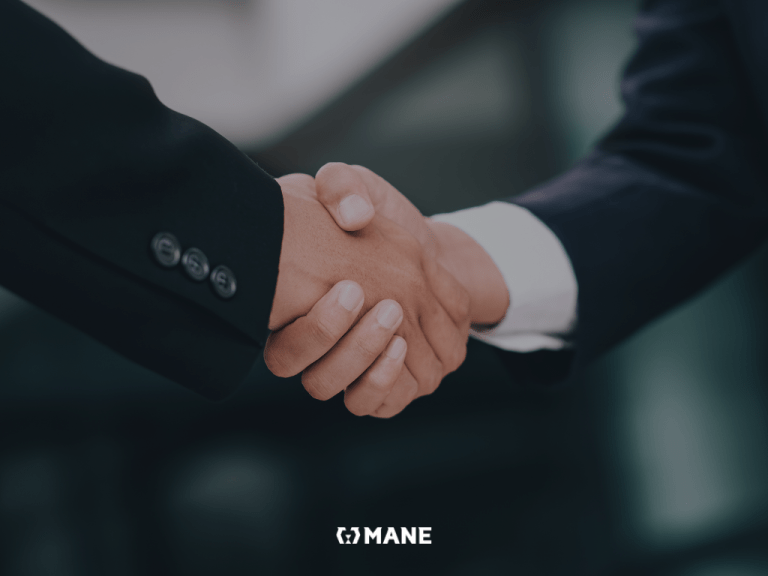 Level Up with White Label eCommerce Design for Digital Agencies
Introduction 
In today's fast-paced digital world, e-shopping has become the norm. Online stores are constantly striving to establish and improve their internet presence. Many hire digital marketing agencies for branding, SEO, and performance marketing. However, they often need web design and development services as well, which digital marketing agencies cannot always provide efficiently or on time. This is where white-label eCommerce website development and design services become crucial.
By partnering with specialized white-label eCommerce service providers, digital agencies can unlock a multitude of benefits, empowering them to deliver exceptional online stores tailored to their client's needs. 
In this article, we will explore the concept of white-label eCommerce website design and delve into the growing relevance it holds for digital agencies, highlighting the immense value it brings to their client offerings.
The Benefits of White Label eCommerce Web Design
White-label eCommerce website design services have emerged as a game-changer for digital marketing agencies, offering a host of advantages that can significantly enhance their client offerings. 
Thus, let us all explore the multiple benefits of utilizing white-label web development and design services, including cost and time efficiency, scalability, professional quality, and the ability to focus on core competencies. By understanding these advantages, digital agencies can harness their power to level up their businesses and thrive in the ever-evolving digital landscape.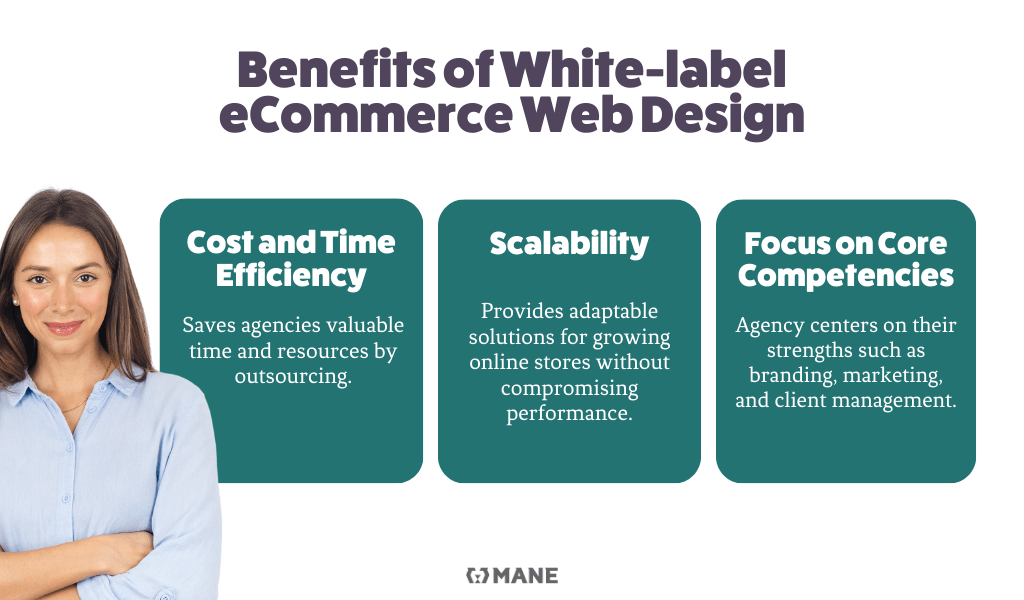 Cost and Time Efficiency

: Utilizing other web design agencies to provide website design can save digital agencies valuable time and resources. Their cost and time efficiency allow agencies to allocate resources effectively, focusing on essential aspects such as branding, marketing, and client management.

Scalability:

White-label eCommerce website development agencies provide scalable solutions that adapt to increased traffic, additional features, and growing product catalogues. Digital agencies can leverage these services to ensure seamless scalability for their clients' online stores without compromising performance or user experience.

Focus on Core Competencies: Partnering with white-label eCommerce web designers and developers allows digital agencies to focus on their core competencies, such as digital marketing strategy, branding, performance marketing, search engine optimization etc. By outsourcing website design and development to specialized professionals, agencies can allocate resources more efficiently and enhance productivity, ensuring each aspect of the client's digital marketing activities receives the attention it deserves.
How Digital Agencies Benefit from White Label Web Design Services?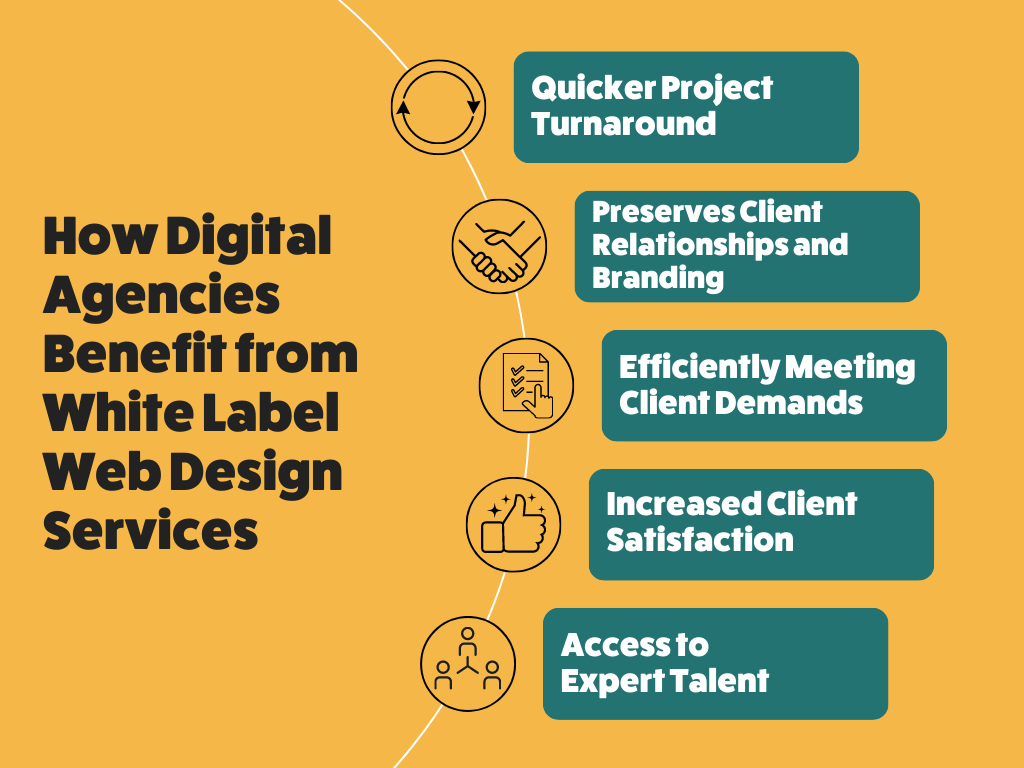 It is safe to say that digital agencies benefit from white-label eCommerce website design in multiple ways. So, let us mention some of those ways: 
Quicker Project Turnaround:

 Leveraging a dedicated team that specializes in web design and development often leads to accelerated completion of projects. This increases client satisfaction and enables the agency to undertake more projects efficiently.

Preserves Client Relationships and Branding:

Despite delegating tasks, the digital agency continues to uphold its direct connection with the client and maintains its branding. In a white-label environment, the agency can present itself as the provider of these web design services, ensuring a seamless experience for the client.

Efficiently Meeting Client Demands:

Although digital agencies often lack expertise in the development of online stores, they can meet client demands for robust and complex eCommerce solutions through white-label services. This approach allows agencies to cater efficiently to diverse client needs, offering customized eCommerce websites without the need for extensive development work, thus saving time and effort.

Increased Client Satisfaction

: The professional quality and tailored solutions provided by white-label providers help agencies deliver high-quality websites that meet or exceed client expectations. This leads to enhanced client satisfaction and fosters long-term relationships, benefiting both the agency and its clients.

Access to Expert Talent:

White-label web development service providers typically have a team of skilled specialists dedicated to web design and development. This grants agencies access to top-tier talent without the associated hiring and training costs.
MANE Digital's Process in Providing White-label eCommerce Website Design Services
When it comes to providing white-label eCommerce website design services, we take on a range of steps in the development process to ensure a seamless and customized experience for our agency partners and clients. 
Our process includes:
Understanding the agency's client needs

: We work closely with the digital agency to gain a deep understanding of their client's requirements. We are involved usually from the initial stage of making offers for the client to researching their needs and defining the scope of work.

Designing the eCommerce website

: We excel in creating visually appealing and user-friendly UI design for eCommerce websites, incorporating the latest design trends and the best practices related to conversions. We create highly customized designs that align with the brand identity and objectives of clients' web shops. By offering tailored solutions, we deliver websites that are visually appealing, user-friendly, and perfectly tailored to meet our client's needs.

eCommerce website's development: Specializing in custom website development, we offer expert services for WooCommerce, Webflow, and Shopify platforms. Our team of experienced developers crafts online stores with clean, optimized code to ensure maximum speed. At MANE Digital, we design user interfaces for both employees and customers, prioritizing ease of use and navigation.
Testing and launching the site:

Prior to the site launch, we conduct thorough testing to ensure a lack of issues and bugs as well as, optimal performance, and compatibility across different devices and browsers.

Providing ongoing support and updates

: We offer ongoing maintenance and support to our agency partners and clients, addressing any issues, providing timely updates, and ensuring that the eCommerce website remains up-to-date and functional.
Throughout the process, we emphasize customization, quality control, and client support, ensuring that our services align with the unique needs of the agency and its clients. Want proof of our expertise? Our case studies showcase the tangible results we deliver. Take a look!
What makes our service different from others?
Can we answer this question without being too biased? Well, we can try. 
Results Achieved in Collaboration with Agencies:
We stand out by adopting a growth-driven design approach in our projects. This means that we prioritise continuous improvement and adaptability throughout the design and development process. The eCommerce websites we work on, especially with the GDD approach, usually achieve consistent growth in conversion success.
When working with agencies using the GDD approach, we analyze the results in every iteration and collaboratively decide and develop the next steps. The metrics typically show progress, which strongly positions the agency in front of the client.
Additional benefits for agencies are:
Improvement of the client's portfolio.

Enhancement and expansion of offerings.

Better positioning of the agency.

Expanding the team operationally and strategically with an external integrated partner.
Understanding of Business Processes
Our deep understanding of business processes sets us apart from all others. We possess extensive knowledge and experience in integrating a client's business processes into the digital solutions they provide. Moreover, we can effectively analyze how an agency operates internally and successfully integrate the client's business processes into the cooperative project. This expertise ensures a smooth transition from traditional business practices to efficient digital solutions.
Project Value Assessment
We help agencies avoid getting stuck in poor project value assessments, from which they often incur losses and have to compensate for the value of website development and design with other services that would otherwise be profitable.
Adaptability to Agency Workflow
We recognize and understand how agencies work. Whether it's working as a white-label partner or engaging in direct conversations with the client, the Mane Digital team ensures efficient communication and saves valuable time for agencies that require a more open approach to collaboration.
Conclusion 
So, to conclude, the benefits of white-label eCommerce website design are undeniable, offering advertising, digital and other agencies a competitive edge in today's digital landscape.
By leveraging MANE's white-label solutions, agencies can unlock advantages such as cost and time efficiency, scalability, professional quality, and the ability to focus on their core competencies. 
We at MANE Digital, with our comprehensive range of responsibilities in providing white-label eCommerce web design services, ensure customization, quality control, and client support throughout the cooperation process. With our expertise in growth-driven design, Agile methodology, and understanding of business processes, we surely stand out as a trusted partner for all marketing agencies.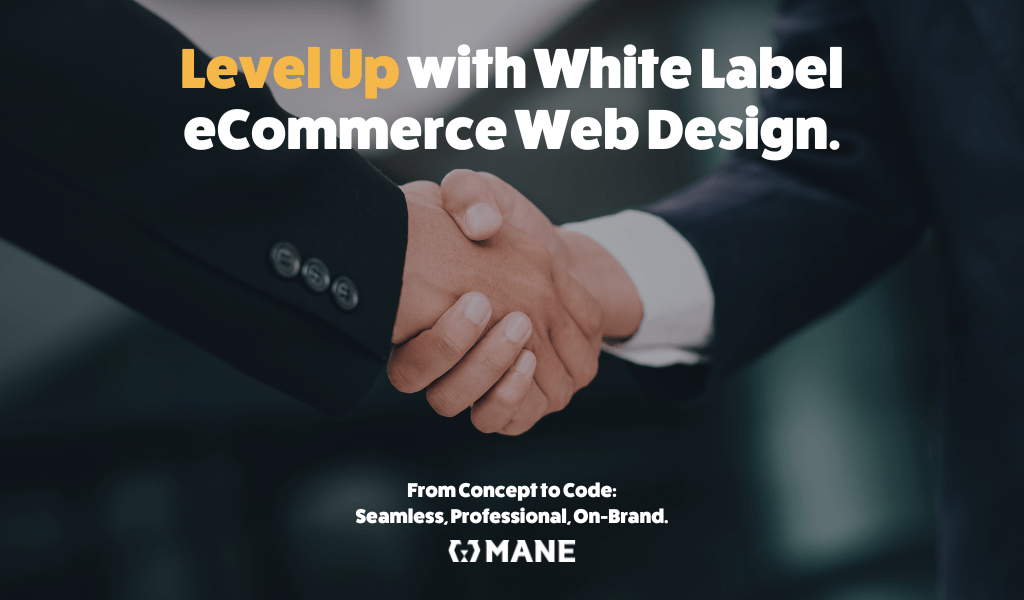 What are you waiting for? Take the Next Step Forward!
Tap into the potential of white-label eCommerce website design and transform your agency's client offerings. Connect with MANE Digital now and embark on a journey to enhanced growth and success. We are here to support you in this journey. Contact us today for more information about our white-label eCommerce website design services.