Six Web Technology Trends For You & Your Clients in 2020
2020 has arrived. Customers' expectations are changing rapidly. Highlighting trends in web technology, providers of services have to offer "multiexperience to get and maintain customers and improve their satisfaction. Gartner launched this term as a synonym for having an experience of the same quality no matter which device or platform a customer uses to access your product.
The team at MANE decided to select the top six technologies that we consider most useful for clients of marketing agencies as well as others who aim to deliver an exceptional user experience to their customers now and in the coming years.
Voice Search
There are predictions that Voice Search will account for more than 50% of all searches on the web in the following few years. Think about the new possibilities that open. Let us help you… it can be used by any person, without knowledge of reading and writing. It's not a small advantage, don't you think?
Google Assistant for Android phones and Siri for iPhones have been implemented in smartphones for years.  Smart speakers, that are digital voice assistants combined with artificial intelligence, are also in high demand (i.e. Alexa). Because of this, SEO for Voice Search results is a must-have in 2020: for websites of your clients. And yours, as well.
A Single-Page Web Application
Unsure what SPAs are? You use websites based on this web technology every day.  Facebook, Google Maps, Gmail, Trello, and Twitter are the most popular examples. In short, a Single-Page Web Application doesn't load content from a server every time you click on a button or any other element on a webpage but rewrites the page dynamically, using Javascript. Of course, an improved user experience lies behind the idea of this technology too. It tries to imitate mobile apps, where there is no extra time you must wait when opening a new page. You and your clients should definitely be aware of SPAs when you plan to create a website or a hybrid mobile application.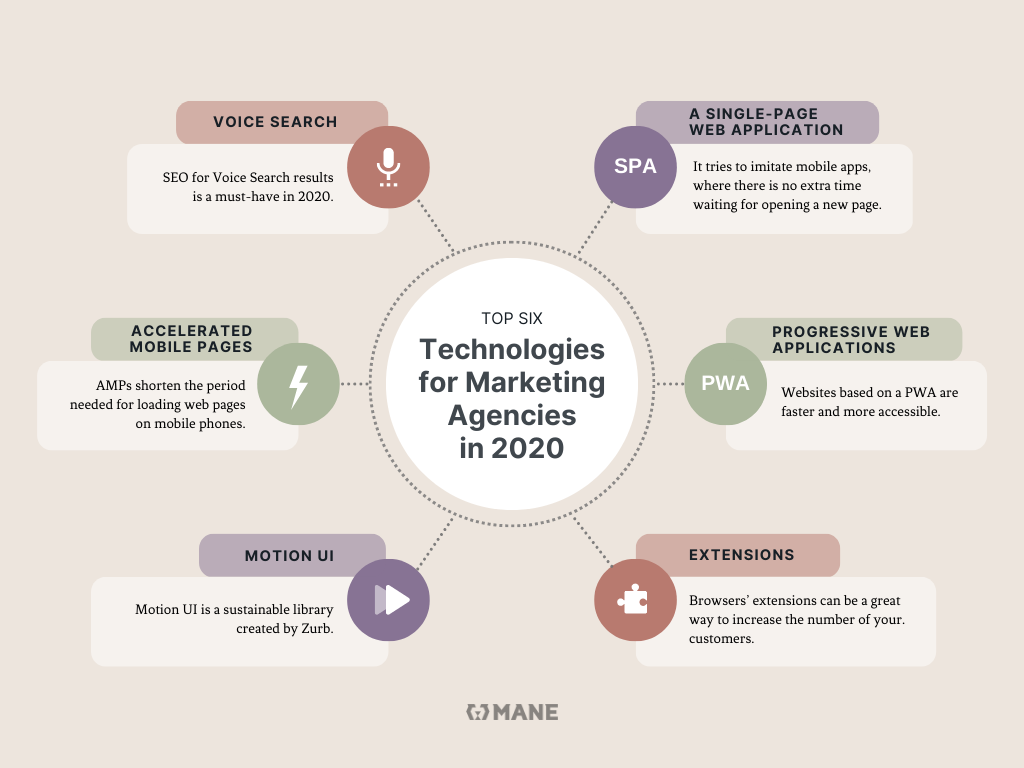 Accelerated Mobile Pages
If you are not familiar with this Google project, our recommendation is to study up, as AMPs shorten the period needed for loading web pages on mobile phones. It has been based on loading pages without unnecessary Javascript and CSS elements that make them heavy and slow. Because of that, this web technology has been used significantly in the process of website creation and we can say it will be a must-have in 2020 for all websites that want to be accessed and used quickly on mobile devices.
Progressive Web Applications
PWAs should be implemented by or for your clients in 2020. Websites based on a PWA are not only faster but more accessible: you can operate to some degree even when there isn't an Internet connection. Also, although PWA gives enhanced features for your client's website, they seem like native apps on the front-end. On the other hand, in comparison to native mobile apps, PWAs can be indexed and ranked by Google. Even more, if you or your client updates their website regularly, push notifications included in PWAs can be great for visitors' engagement with the website.
Motion UI
You will like this trending web technology the most, we are positive. It allows a lot of room for creativity. Motion UI is a sustainable library created by Zurb. It allows designers to create CSS transitions and animations and offer an exceptional UX to a user. As its name shows, Motion UI stands in contrast to static designs. Not only can you and your UI designer play with various effects on your web page, but it's also not complicated to implement on a website.
Extensions
Extensions are software that can be easily added to your favorite browser. They give various features to users. Your clients use at least some of them, we are sure (e.g. ad blockers or cookie handlers). All browsers have offered a significant number of extensions, but Google Chrome offers the biggest selection. They offer literally hundreds of thousands of extensions. Many (most) of them are free. If your clients have a product or service that can be extended by this kind of technology, browsers' extensions can be a great way to increase the number of their customers and improve their experience.
At Mane, we work with these and other cutting edge web technologies daily. If you have any doubts or questions related to this topic, you can send us a message. We'll be glad to give you information and specific recommendations for you and your clients.