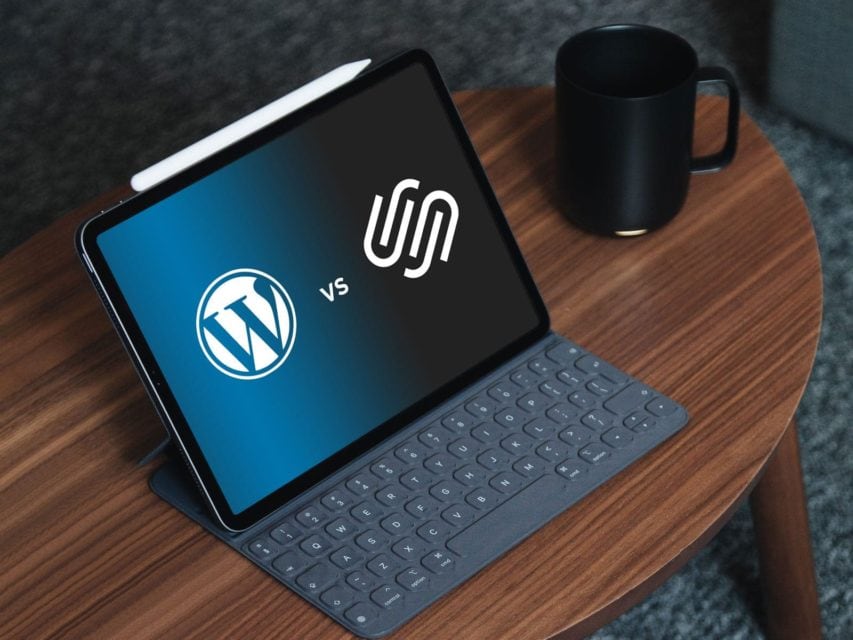 Squarespace vs WordPress – A Head-to-Head Comparison
Have you seen Squarespace TV commercials featuring Idris Elba, Keanu Reeves or John Malkovich in main roles? Well, we confess to you that those ads have gripped our attention too. They increased the awareness of the Squarespace platform and company. However, a lot of people ask us at MANE Digital if this platform can be a replacement for WordPress.
That's why we decided to compare them, Squarespace vs. WordPress, and present you with the pros and cons of each. If you're thinking about which web platform to choose for your business, but you are still not sure, we believe you will be able to make an informed decision after reading this post. We adjusted our analysis for small businesses and entrepreneurs as Squarespace targets photographers, artists, restaurants, and couples that plan their weddings as potential clients. So here are the features we included:
Pricing and costs
Ease of use
SEO & load time
eCommerce features
Design
Pricing and costs
Squarespace Pricing
PROS
Squarespace is not free or open-source. It's a subscription-based solution. They offer four plans, so if you choose an annual deal, it will cost you from $12 to $40 per month, depending on your selected features. Thankfully, there won't be unpredictable expenses.
Personal plan: $12 monthly ($224 annually) – this is the price for a Squarespace basic version, which can cover your needs if you want to have your blog or a website with a limited number of pages and features. Also, in the scope of this plan, there can be only 2 contributors.
Business plan: $18 per month ($216 annually) – a business plan starts from this price. Unlike a personal plan, the business plan includes unlimited contributors, pages, and advanced features. It also includes 24/7 customer support as well as fully integrated eCommerce. However, Squarespace charges a 3% transaction fee if you want to build a store based on this plan.
eCommerce plan: $26 per month ($312 annually) – This one and the next plan coverage options for creating eCommerce websites. In the scope of this plan, you will be able to set up a website based on the Business plan enhanced with advanced eCommerce tools.
Advanced eCommerce plan: $40 per month ($480 annually) – This plan has been created for businesses needing additional e-commerce storefront features, like shipping and discounts, APIs for inventory, etc.
CONS
Although Squarespace pricing and plans are determined in advance, they can burden start-ups with many other expenses, especially in an early phase. We at MANE Digital recommend you try to predict as many expenses as possible, whichever platform you choose.
WordPress pricing
PROS
Unlike Squarespace, WordPress doesn't have any subscription or plan. It's an open-source solution. This CMS (Content Management System) provides a framework for building your website and paying for only the necessary things. We divided mandatory and optional costs so you can easily predict which expenses you may have if you choose this platform.
Mandatory WordPress costs:
Hosting – We're sure you're away that your website has to "live" somewhere. That's called "hosting." There are different options depending on site size, scope, and traffic. For an average website, estimated hosting fees are $12 per month.
A domain name – Aka, the name of your site. This asset has to be bought too. If you buy a domain and hosting together, you will probably get a combo discount.
SSL certificate – In case it is not included in your hosting, having this kind of security is essential, mainly if you collect data or conduct e-commerce. So you will need to plan for this expense too.
The developer – Even if you have the initiative to create a website on your own, despite having technical skills, we recommend having at least one quality developer engaged. If something goes wrong, he or she could be of great help. Or, in case you don't have the time and ambition to engage in this endeavor, a developer will be mandatory. And their working hours' prices vary, depending on many factors.
Optional elements which you can choose whether you will pay for:
Theme – Many free themes are created for almost all industries, topics, etc. If you decide to pay for a theme (approximately $59), there are benefits provided; for instance, you can count on their 24/7 support.
Plugins – There are plenty of plugins for just about any feature you have in mind. The difference between paid and free plugins is in the "help," i.e., support you will get in case something goes wrong.
CONS
Depending on your business, you may need different features that will expand the cost of your WordPress site build. Although WordPress is free, you should think about and then search for all possible requests you and your website's visitors may have. In case you need really specific features, you will have to pay for a plugin or an extension to provide them. Because of that, as we already mentioned, good project planning at the beginning of website development is essential.
In the Squarespace vs. WordPress pricing "competition": WordPress wins.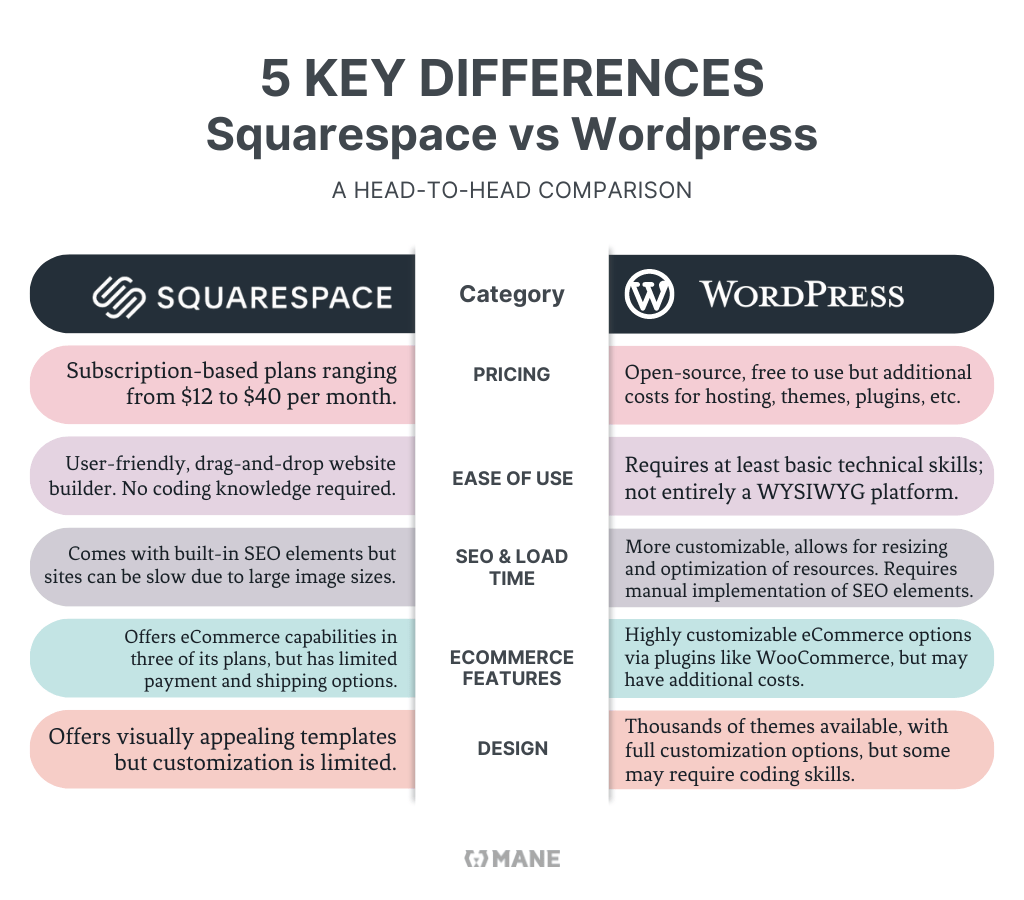 Ease of Use
If you have doubts about how to use Squarespace and WordPress and what skills you need to set up and maintain your website successfully, here's the deal.
Squarespace Ease of Use
PROS
You can easily set up a site using the Squarespace website builder without any prior technical knowledge or experience. This platform has been used mostly by entrepreneurs and small business owners who need time for other segments of business development, while the website is only a side element. Squarespace is a page builder, which means that it gives you the option to drag and drop elements and create a site using text boxes, images, videos, buttons, etc.
As a page builder, this platform works based on the "What You See is What You Get" methodology (abbreviated WYSIWYG). It means you can see and control all changes you make in real-time before they are published on the website.
CONS
Although it's a simplified tool created for everyone, this platform doesn't allow you to change the design and pre-defined elements available in the customizer.
WordPress Ease of Use
Well, let's be clear. If we make a comparison to web development using programming languages, e.g., JavaScript and PHP, WordPress is a way easier platform that enables creating sites for those who have at least basic technical knowledge of coding.
PROS
WordPress gives a range of options depending on the level of technical expertise the creator of the site has. By using its plugins that enable building custom websites with drag and drop (e.g., Elementor, Divi Builder, etc.), it becomes accessible to business owners who don't have any coding knowledge. On the other hand, for those comfortable with WP and front-end development, it can be easy to use and preferable as it provides a lot more room for customization.
CONS
In comparison with Squarespace, overall, we have to say that WordPress is more demanding in needed skills.
Also, WordPress is not WYSIWYG. So even if you make changes on your web page in the backend, they will not be seen on the site until they have been published.
In the Squarespace vs. WordPress ease of use "competition,": Squarespace wins.
SEO & load time
Although not entirely technical, Search Engine Optimization (i.e., SEO) is essential for the online presence of any business that intends to be noticed by its target audience. Also, while creating a website, paying attention to SEO rules makes life and business easier in later stages.
Squarespace SEO features
PROS
Squarespace comes with SEO elements already integrated. If you choose this platform, your site will have indexed pages, automatic tags, canonical tags, optimized URLs, implemented robots.txt and Google Sitemaps.
CONS
Sites created by Squarespace can be very slow due to the images' size. This platform enables its customers to have visually stunning websites with many images. Despite that, high-quality pictures make a website heavy and difficult to load. This issue has two downsides: one is related to the fact that nowadays, visitors have little patience to wait for a slow site to open, especially on mobile devices. Conversely, regarding Squarespace SEO, Google doesn't reward slow sites.
WordPress SEO features
PROS
In comparing WordPress vs. Squarespace, the first gives more options for customization of the whole site, including images, videos published, etc. Even if you upload pictures of higher resolution, they can be resized by a plugin. It means you control the size and speed of a site created in WordPress. And in case your site is slow because of large resources being used, it can be more easily optimized.
CONS
If you choose WordPress as a platform, you will have to do SEO alone. Plugins will help you in reminding you of the elements you should include when creating an SEO-friendly website. However, it will be your task to implement all the necessary elements. Or engage SEO consultants.
In the Squarespace vs. WordPress SEO and load time "competition": WordPress wins.
eCommerce features
If you plan to open an e-commerce storefront, this probably means that it will be an essential part of your business which you will expect revenue from (and that you plan to invest your resources).
Squarespace eCommerce
PROS
If Squarespace is your choice, you can set up your shop in the scope of three plans, Business, eCommerce or Advanced eCommerce plan, depending on your requests. You will not be charged additionally; your site will have all the described features from the package you choose.
CONS
We recommend you check if Squarespace eCommerce can provide all the options you may need. As it doesn't have all payment and shipping possibilities, you should pay additional attention and check if Squarespace can offer all features your eCommerce website should have. For instance, Squarespace only chooses Stripe and PayPal as two payment methods, which can be a serious disadvantage if you intend to sell products outside countries that support those methods.
Regarding fees Squarespace charges, if you base your small eCommerce store on the Business plan, 3% will be the amount this platform will keep. However, suppose your needs are greater than that, for instance. In that case, if you want to use inventory, orders, tax, coupons, and an option of abandoned cart recovery, you can upgrade to eCommerce or Advanced eCommerce plans. In that case, there won't be a fee charged.
WordPress eCommerce
PROS
We bet that you have already heard about WooCommerce. It is the most popular WordPress eCommerce plugin. Like WordPress, Woo enables a website owner to customize it as much as he or she wishes. Also, WooCommerce has features created explicitly for eCommerce businesses. More precisely, if you choose WordPress and Woo for e-commerce development, you will have plenty of free WooCommerce themes at your disposal. There are extensions for shipping, credit card payments, accounting, etc.
CONS
In the website planning phase, we recommend listing all extensions you may need for your eCommerce store. On the contrary, you may have unpredictable expenses, as those extensions are usually charged annually, and their prices vary between $29 and $79.
We mentioned at the beginning of this post that we will discuss the two platform's features, having in mind entrepreneurs and small businesses. Considering this fact, we can say that although Squarespace is easier to set up and further handle, WooCommerce as a WordPress plugin gives more options for small to mid-sized companies.
In the Squarespace vs. WordPress eCommerce features "competition,": WordPress wins.
Also, there are a lot of eCommerce platforms on the market if you seriously think about how you set up shop. We recommend you take a gander at our blog post: Shopify vs. WooCommerce, in which we have already analyzed features of the two most popular eCommerce platforms.
Design
Web design is like the fashion industry; it has trends that change every time. You can follow them or go your own way and risk not appealing to your target audience. Applying this comparison to our protagonists, we could say Squarespace is the fashionista, and WordPress is an original, creative guy.
Squarespace website design
PROS
A fantastic design is one of the most essential Squarespace features. It has been created according to the latest UI design trends. Their customers in the front-row visual businesses (photographers, artists, restaurants, etc.) can easily add their photos and images.
Also, no matter which template you choose, you can switch to any other at any moment.
CONS
Although you can customize the chosen template, it is limited to basic fonts, colors, and the website logo. Also, Squarespace offers 60 templates; you can pick the most suitable for your website. However, this number is pretty small compared to the number of WordPress themes.
WordPress web design
PROS
Our original creative guy, "he," has several thousand themes at your disposal, more or less trendy. Not only that, in WP, whichever theme you choose, you will be able to customize its design entirely according to your preferences. You can change your site outfit by coding as well as implementing plugins. You can choose between several thousands of plugins in the WordPress database. As an open-source solution, WordPress gets more plugins daily that can provide added value.
CONS
Sometimes it will not be easy to customize theme design according to your needs, especially if you try to set up a website yourself.
Also, not all themes work perfectly. We recommend you check if those you like are compatible with the latest upgrade of WordPress and the number of downloads, and the date of the last theme update.
In Squarespace vs. WordPress UI/UX design of websites "competition": Squarespace wins.
Overall, if we want to sum up all the features we analyzed, we can say that WordPress is a better solution for those who plan to launch a website, regardless of whether they are experienced in coding. From our agency experience, WordPress offers more options in every aspect of web development and is the most sustainable, scalable platform.