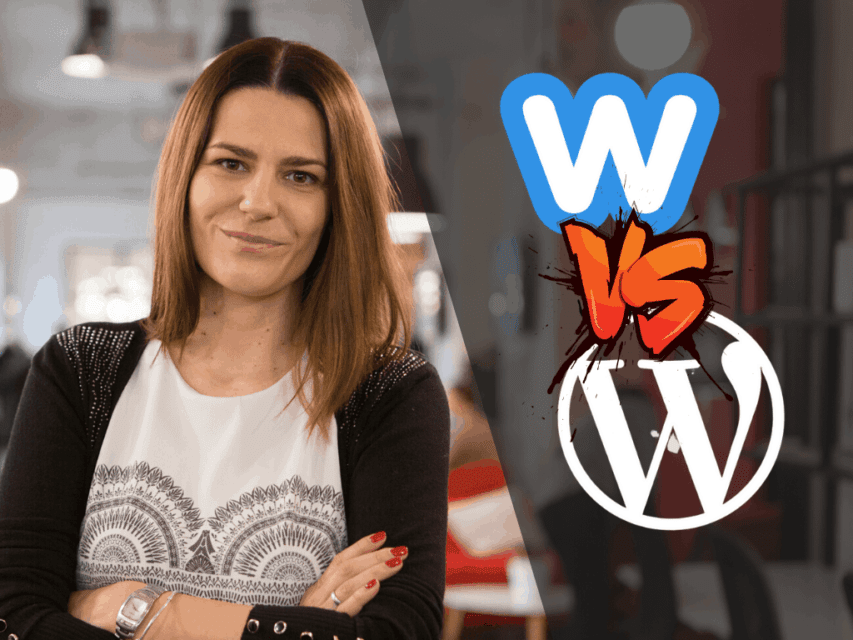 Weebly or WordPress: Which CMS is Best for Your Website?
Do you plan to create a stunning website? Or do you just want to explore your options for migrating it to another platform? At Mane Digital Agency, we have been designing and developing a variety of web apps for years so we decided to share our experience with you. In this post, we will look at Weebly vs WordPress, two popular website platforms.
Did you know that Weebly was founded by three students at a prestigious American university? Doesn't that remind you of the story of one someone by the name of Mark who's the founder of one of the most successful tech businesses, Facebook? Maybe it's the secret sauce to their success.
So let's start. We will compare Weebly and WordPress by five criteria:
Ease of use
Pricing
SEO
Plugins
eCommerce
Hosting
EASE OF USE
Weebly – Ease of use
Weebly is a website builder with a drag and drop editor that doesn't require any technical skills. You can build any type of web app, company or personal website, eCommerce storefront, or blog.
For those who have coding experience, Weebly has an editor module where HTML, JS and CSS code can be added easily.
WordPress – Ease of use
If we agree that a website can be developed by coding in any programming languages (PHP, JS, etc.), and that, on the other side, it can be built with Weebly or any other drag and drop editor, then we can say that WordPress gives options for both ends. If you know how to code or you hire a developer to build a website for you, you can change and customize every detail and every piece of code in it. On the other hand, if you want to set up a site using an editor, you can use Gutenberg in the scope of WordPress, or you can add any of page builder plugins (e.g. Elementor, Divi, etc.).
Weebly vs WordPress comparison: Even though Weebly doesn't have a lot of the same functionalities WordPress has, Weebly can be easier for handling, setup and building a website. Especially for those users who don't have technical skills.
Result: Weebly wins.
PRICING
Weebly Pricing
Weebly provides 5 different packages (including a free one) with various options, mostly depending on whether a website will need advanced eCommerce features or not. Hosting, a an SSL certificate, a lead and contact form, storage space, and customer support have been included in all plans. The prices have been presented per month, under the condition you subscribe to an annual package.
In short, Weebly plans include:
Free – If you choose not to pay for any of Weebly plans, you will have 500 MB of storage, website branding as well as a website URL that contains their brand name, i.e.: nameofthesite.weebly.com
Connect – $5 per month
Starting with this package, you can choose your website address. You will also have a 500 MB storage limit at your disposal
Pro – $12  per month
This is the first package under which you will not have Weebly branding on your site and there will not be a storage limit. Also, you can use a few basic eCommerce options and you will be able to use $100 in Google AdWords credit
Business – $25 per month
With this plan, you gain more eCommerce options (e.g. shipping discounts, coupon codes, a shipping calculator) and additional marketing features
Business plus – $38 per month
This is the most expensive package, with advanced options for online stores primarily. On Weebly's website, it is aimed at "Power Sellers". Above all other eCommerce features contained in the previous plan, with Business plus you will find a real-time shipping option as well as abandoned cart emails. Also, an email marketing service has been integrated.
WordPress pricing
Is WordPress free? – we get this question at Mane Digital Agency often. Well, in a way, it is the truth. You can download WP at any moment and start to build a website. However, there are several mandatory expenses you will have, although they are actually related to your site and not WordPress itself.
Those are:
1. Hosting – where your site will "live",
2. Domain – the name of your website,
3. A developer – if you don't have enough technical skills,
4. SSL certificate – this service is usually included in a Hosting package.
On the other hand, as an open-source platform, WordPress enables people to build different themes and plugins and to publish them there. They are usually available in free and paid versions. If you choose premium ones, you can count on customer support, which otherwise you will not have.
Weebly vs WordPress comparison: Although Weebly's prices are not high, and expenses can be estimated easily, we vote for WordPress. Not only are WP's mandatory costs minimal, but all other investments depend on you, your skills and your needs.
Result: WordPress wins.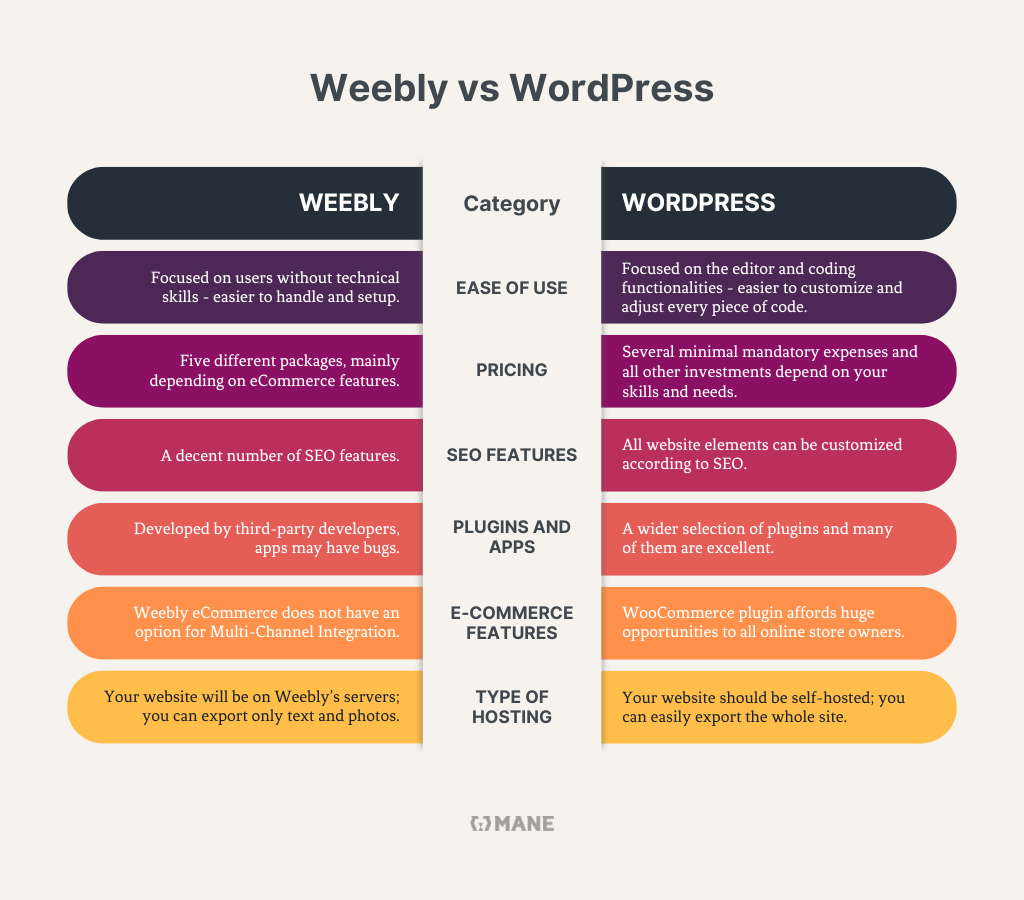 SEO FEATURES
Our clients ask us about how and why SEO is important. Well, taking into consideration that every day there are more than 100.000 new websites on the Internet, we can say that creating a website without thinking about optimization is like producing a widget without considering the marketplace for selling it. So, let's take a look at SEO options that Weebly and WordPress offer their clients.
Weebly – SEO
Speaking of the importance of SEO, Weebly did a lot to enable their clients a decent number of SEO features. Customers have options to optimize meta descriptions, page titles, images, canonical tags, etc. Also, Weebly websites are mobile-friendly, with improved website speed as well as implemented Google Analytics and Google Search Console. All of these factors make a huge difference with Google.
However, if we analyze all Weebly SEO features, there are a few shortcomings that decrease website rankings. In case you decide to open an online store, URLs of your store product and category pages will have a string that cannot be removed. Also, you will have to implement one of the Weebly apps to use headers, other than H2.
WordPress – SEO
Even if you are not super familiar with SEO rules and best practices, WordPress and its plugins allow you to optimize your website so it can be ranked well on Google. We bet you already heard of Yoast, the most popular SEO plugin for WordPress. It reminds you of all of the necessary SEO best practices you should follow when building a website. Also, there are no elements on a WordPress website that cannot be customized according to SEO.
Weebly vs WordPress comparison: As we already mentioned, nowadays, SEO is equally important for the success of an online business as its design, code, and content. So we consider that the optimization of every element should be kept in mind. In this "battle", WordPress is most up to the challenge.
Result: WordPress wins.
PLUGINS AND APPS
Weebly – apps
Weebly's apps are similar to WordPress plugins. In Weebly's App Center there are several hundred apps including free and premium options. However, given some of them have been developed by third-party developers, they may have bugs. So, it is recommended to test them before deploying them on a site that is live and online.
WordPress – plugins
There are thousands of plugins users of WordPress can choose from. Many of them, especially for the main website functionalities, have over 500,000 or even a million downloads, which proves their quality.
Also, most of them have both free and paid versions. In the scope of premium plugins, you will usually have customer support, in case you need help.
Weebly vs WordPress comparison: In any case, we prefer WordPress plugins as there is a wider selection of them and many of them are very good, i.e. they don't have bugs.
Result: WordPress wins.
E-COMMERCE FEATURES
Weebly – eCommerce
In 2018, Weebly was acquired by Square, a financial services and the payment processor company. It made improving Weebly's eCommerce offering Priority #1. After that, Weebly also enabled clients to choose between 3 payment processors: Stripe, PayPal, and Square.
There is one more advantage of Weebly eCommerce services: you can manage your store using an easy-to-use mobile website editor. Also, your shoppers can buy products using their mobile devices.
Among other features, like an integrated shopping cart, inventory tracking, and secure checkout, Weebly offers to their customers shipping rates with significant discounts.
However, at this moment, Weebly does not have an option for Multi-Channel Integration, so it is not possible to sell products on Amazon, eBay, and other marketplaces, or social media channels.
WordPress – eCommerce
WordPress and eCommerce go together like peanut butter and jelly thanks to the uber-popular plugin WooCommerce, the most refined eCommerce plugin on the market. We can actually say that it is the whole platform, with its themes and plugins. WooCommerce is also comparable with the popular eCommerce software, Shopify. See WooCommerce vs Shopify.
Although WooCommerce is free, its add-ons, extensions, themes, and plugins usually have free and paid versions. If you start a serious eCommerce business, you will probably need a few paid extensions. Their prices vary between $29 and $79 per year. Affordable.
Weebly vs WooCommerce: Not only does WooCommerce have all the features that Weebly misses, but it also affords huge opportunities to all online store owners who have more revenue.
Result: WP with the WooCommerce plugin win.
TYPE OF HOSTING
Weebly hosting – hosted service
As we already mentioned, when setting up a website on the Weebly platform, you will get their hosting, i.e. your website will be on Weebly's servers. However, if you decide to migrate your website from Weebly to any other platform, you will be able to export only text and photos, nothing else.
Also, Weebly provides its customers with cloud-based hosting. It means that your website is hosted on multiple servers which decreases the probability of website drop caused by hackers' attack to other sites on the same server.
WordPress hosting – self-hosted
On the other hand, WordPress's concept is completely different. Having its own hosting is a pre-condition for a WordPress site to be online. Also, and this is very important, you own 100% of all your content on a WordPress site. You're not "renting" it as you would be from Weebly. And, you can export the whole site pretty easily.
Weebly vs WordPress comparison: If you plan to make any changes and customize your website, we would recommend WordPress. In the case of Weebly, all changes on the page will be lost when you change the platform.
Result: WordPress wins.