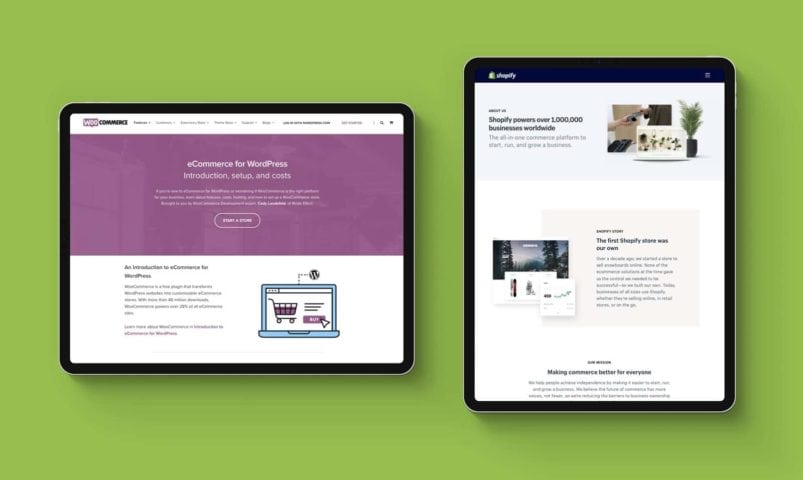 What Are the Benefits of Having a Custom Built eCommerce Website?
Introduction
There are many benefits to having a custom-built eCommerce website, regardless of whether you are a marketing agency that requires white-label eCommerce services for your clients, or you need it for your own business. When you work with a web development company to create a custom website, you can be sure that the site will be tailored specifically to your needs and desires. You will completely control your site's design, functionality, and content. Additionally, you will have access to features and tools unavailable on pre-built eCommerce platforms.
Custom Website vs. Template  — What Is the Difference?
A custom website is a website that is built specifically for your (client's) business. It can be designed and developed within a CMS platform or built completely from scratch. Anyway, the website will be designed to meet your specific needs and requirements. A custom website will also be unique to your brand, which can help you stand out from the competition.
In contrast, a template is often like a blueprint for a website and is just a starting point for many brands. Templates offered by popular CMSs, e.g., WordPress, Shopify, Wix, Webflow, etc., are not unique and can be used by anyone. Additionally, they often do not offer the same level of customization or flexibility as a custom website.
So, what are the benefits of having a custom-built eCommerce website?
Benefits of having a custom-built eCommerce website
There are many benefits of having a custom-built eCommerce website, including:
A custom website can be designed to match a brand and style.
You have full control over the functionality of your website, so you know it will scale well.
You are in control of security, access, permissions, etc.
Improved loading times and performance.
With a more efficient support system, you don't have to worry about any issues or bugs.
A better user experience.
Let's take a look at each of these benefits in detail.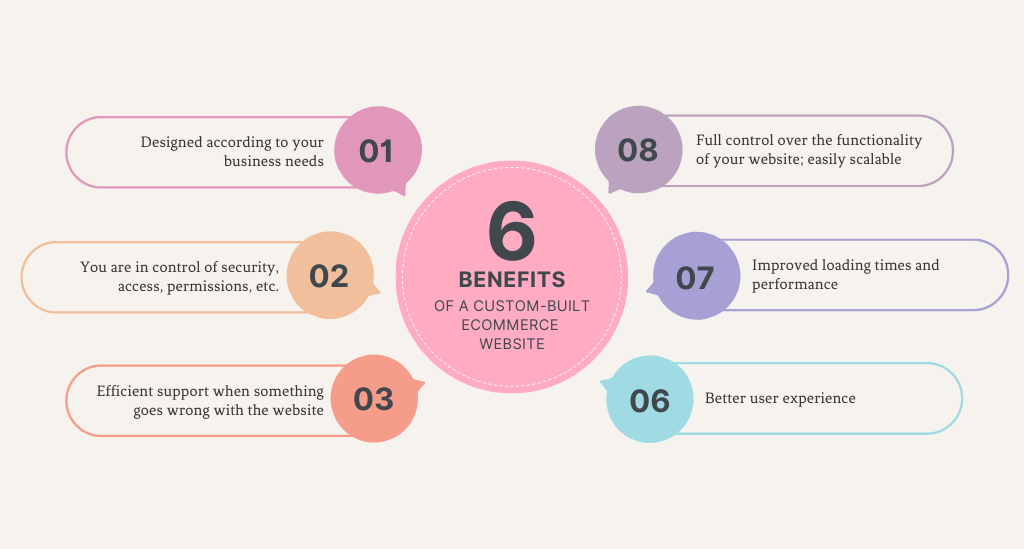 Designed According to Your Business Needs
A custom eCommerce website will be designed specifically according to the needs of your business. This means that all the branding on your site will be relevant to your business, and you can change front-end elements easily.
For example, suppose you or your client is a retailer selling products online. In that case, an eCommerce site will be designed to showcase products in the best possible way and make the purchase process as smooth as possible for customers.
This will result in a better user experience, essential for driving traffic, conversions, and sales. Not only that, but you will have the final say on your site's colors, typography, and overall style. Most website templates also have adequate customization regarding these aspects of your site. However, some limitations are possible with templates.
Easily Scalable
Another great benefit of having a custom eCommerce website is that it can be easily scaled to accommodate the business's growth.
If your client is starting with a small selection of products, it's easy to add more products and categories as the business grows. You won't need to worry about complex code or to redesign the entire website to deal with growing pains.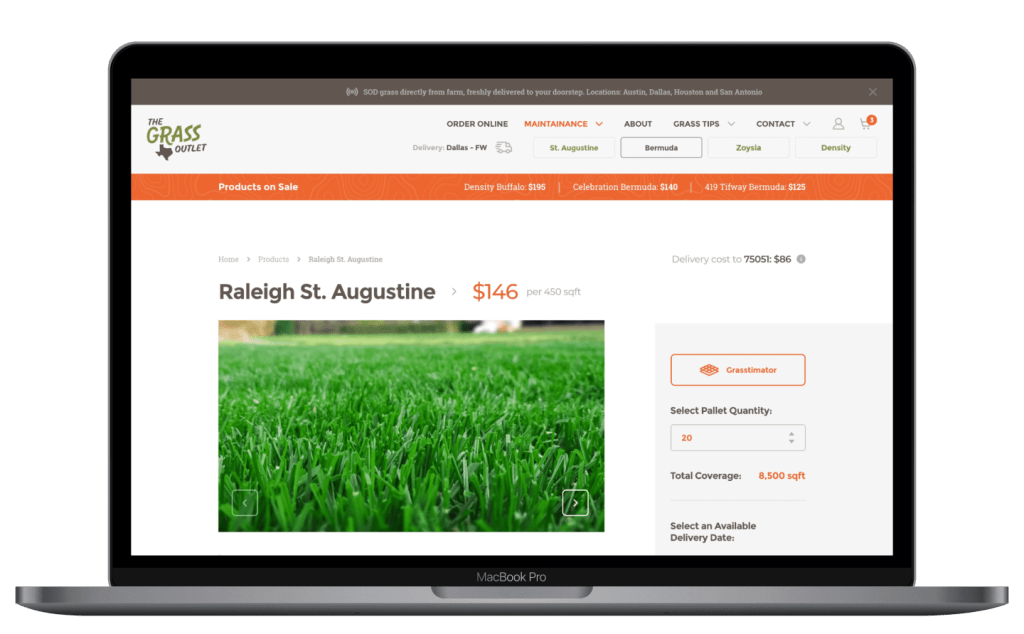 A custom eCommerce website will be built to grow your client business, making it easy to scale up when the time comes. This is in contrast to templates which sometimes cannot provide uninterupted usage of an online shop with several hundred thousand products.
Safe — Eliminate Safety Issues
In today's age, data security is more important than ever. When you have a custom eCommerce website, you can rest assured that customer's information is safe. You won't have to worry about data breaches or other common safety issues with third-party platforms.
You also gain the ability to tailor user access control to the specific needs. Most CMS templates only offer a limited number of user roles/permissions.
With a custom online store, whether within a CMS platform or not, your client can control who has access to it and what they can do. This ensures that a website remains safe and secure at all times.
Faster Loading
Custom eCommerce websites can also load faster than their CMS template counterparts. This is because you're not limited by the code or design of a third-party theme. Some existing themes and templates could have a lot of unnecessary code, which can cause the website to load slower than expected.
A faster website means more happy customers, a better rank on Google, and higher conversion rates. In today's fast-paced world, people expect instant gratification and won't hesitate to leave your website if they experience unnecessary traction when converting or making a purchase.
Speaking about concrete CMSs, for example custom WordPress development allows you to create a fast, responsive, and well-optimized website that will keep customers happy.
Efficient Support
For example, if you're using a website builder on one of the CMSs like Shopify, you're at the mercy of their support team when something goes wrong with a website. This can often be a frustrating experience as you wait for someone to get back to you with a solution.
With a custom-designed eCommerce website, you will have the support of a smaller, much more dedicated team you hired to develop it. This team will be intimately familiar with the website and can provide a more efficient support experience.
Better User Experience
The user experience is one of the most important aspects of any website. If users can't find what they're looking for or are confused by a website, they will likely leave and never return.
A custom-created web shop allows you to design a unique and intuitive user experience tailored to your specific audience. This is in contrast to most CMS templates which are often generic and not optimized for conversions.
By designing a custom user experience, you can be sure that your users will have a positive experience on your website and be more likely to convert into paying customers.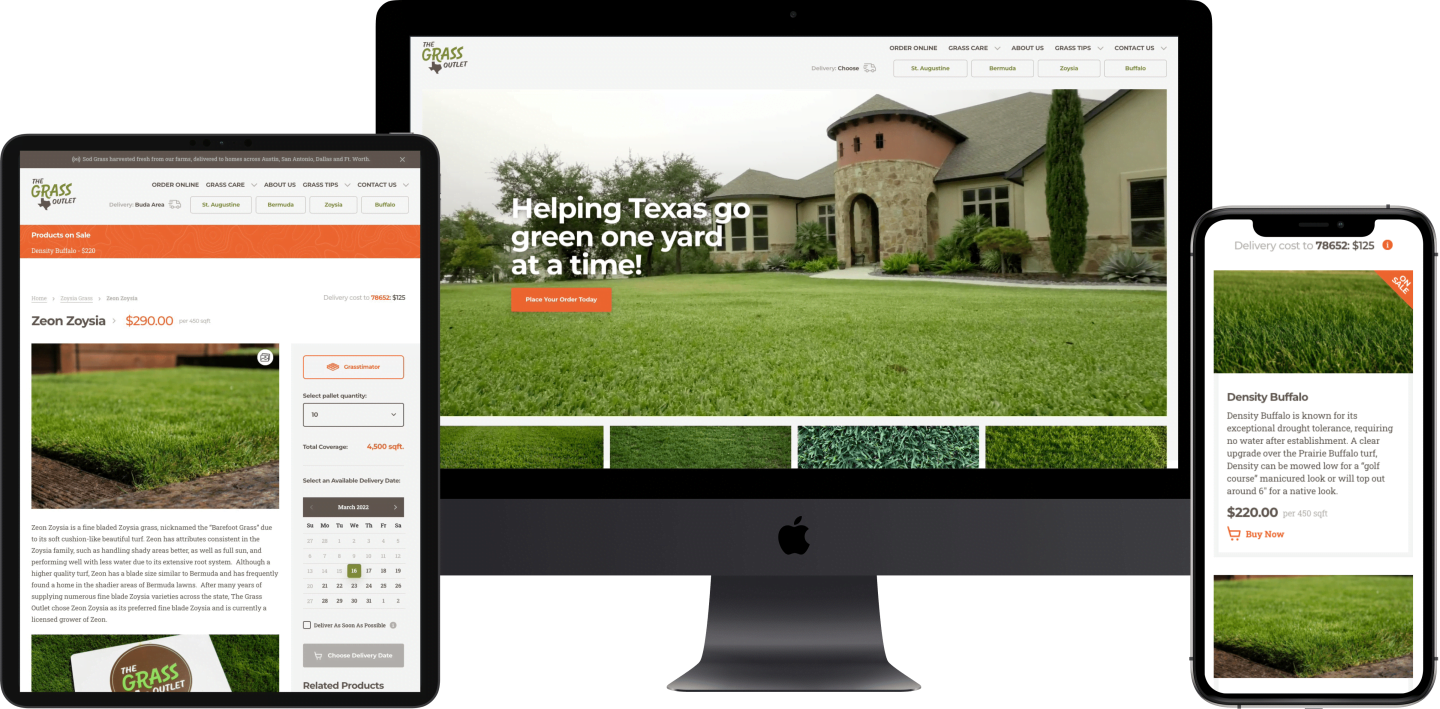 Conclusion
Did we answer your question on how to build your eCommerce website? These are just some of the custom design benefits. When you work with experienced web designers and developers, you can tailor your website to fit your specific needs and create a unique user experience that will keep your existing customers satisfied while bringing in new ones.
You can respond better to customer requests, implement new features, and scale your business to the moon! If that wasn't enough, you could breathe easy regarding security, performance, and support.
If you're ready to take your eCommerce business to the next level, contact us today to get started on your custom website project!