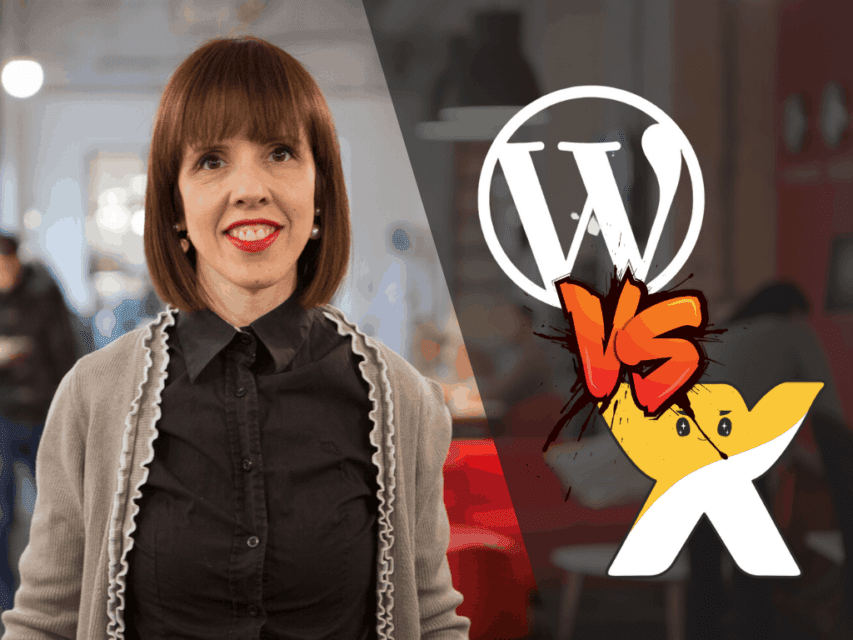 Wix vs WordPress: Which Platform Offers Better Customization Options?
Have you noticed a Wix advertisement before your favorite song or show on YouTube? Or have you just heard about this platform even though it was launched in 2006? Our clients ask us about Wix and the pros and cons related to WordPress, so we decided to make a comparison of Wix vs. WordPress so you can form your own perspective about their advantages and disadvantages.
In the beginning, we can say that Wix is one of the most popular page builders compared to WordPress, which is the biggest open-source platform. Wix has about 1 percent market share, while it has been estimated that WordPress is about 60% this year (2019). Although the disproportion is significant, we are confident that both of them have their own target audience. If you are in doubt or you just need additional information,  let's look at the features and benefits of both platforms, and decide which one suits you more.
Wix – Ease of use
Compared to Squarespace, Weebly and other page builders, Wix is the most popular at this moment. It is highly intuitive, and suitable for all customers who don't have any coding knowledge. Its drag-and-drop editor allows you to move any element to any place on a page.
Also, when you change any design element, you can see a new state immediately on the website.
WordPress – Ease of use
WordPress gives many more options, but it is more complex too. If you know how to code or you hire a developer, it will not be difficult to use. On the other hand, if you wish to create a website in WordPress alone and you don't have coding skills, then only basic functionalities will be available to you. Having that in mind, WordPress launched Gutenberg, their editor that gets WP closer to other page builders. Also, some plugins do similar, e.g. Divi, Elementor, etc…
In a word, we can say that WordPress enables you to create a website depending on the skills and resources you have.
Wix vs WordPress Ease of use comparison: If you don't have coding skills and you seek a fast solution, Wix is a much better solution for you.
Vote for: Wix
Wix – Pricing
"How much does Wix cost" is what some clients ask us at Mane digital agency. Well, the answer is not so simple. There is a free option and 7 different subscription plans.
If you decide not to pay for Wix plans, there are two limitations: you will have Wix ads on your website, and your site domain will contain Wix in its name (i.e. your site URL will be something like username.wixsite.com/siteaddress). Additionally, considering that you will not be offered add-ons, like Analytics, we can say that this free option is only for students or someone who doesn't care so much about their professional brand.
Speaking of subscriptions, Wix divided plans into two groups, whether you are creating a website for personal use or for an offline business or for eCommerce. You can select a monthly or yearly plan. If you pay for one of Wix's plans (except Combo and Connect Domain Plans), a domain name will be free for the first year. The next year the domain name renewal price will be $16.89.
In the case of websites, there are 4 plans:
Connect Domain – $4.50 monthly. In the scope of this plan, you get Wix brand ads on your website
Combo – $8.50
Unlimited – $12.50 In Wix, they say this is the most popular plan. Among other features in it, it is the first plan that enables a user an unlimited bandwidth
VIP – $24.50 This is the most expensive plan in this group. Unlike in others, you will be able to skip the line and get a super-fast response in case you have a problem
Unlike the plans in the first group, Business & eCommerce subscriptions contain online payment options. There are three of them:
Business Basic – $17 – If you have an eCommerce business and you have decided to set it up on the Wix platform, this plan contains basic features for your online store to work.
Business Unlimited – $25 Wix will suggest a professional logo for your business and create social media logo assets for you.
Business VIP – $35 As in the Websites group of subscriptions, the largest plan allows the user to get priority response from Wix support.
Although hosting is included in all those plans, a downside of Wix is that you cannot change the web host again. It's a licensed platform.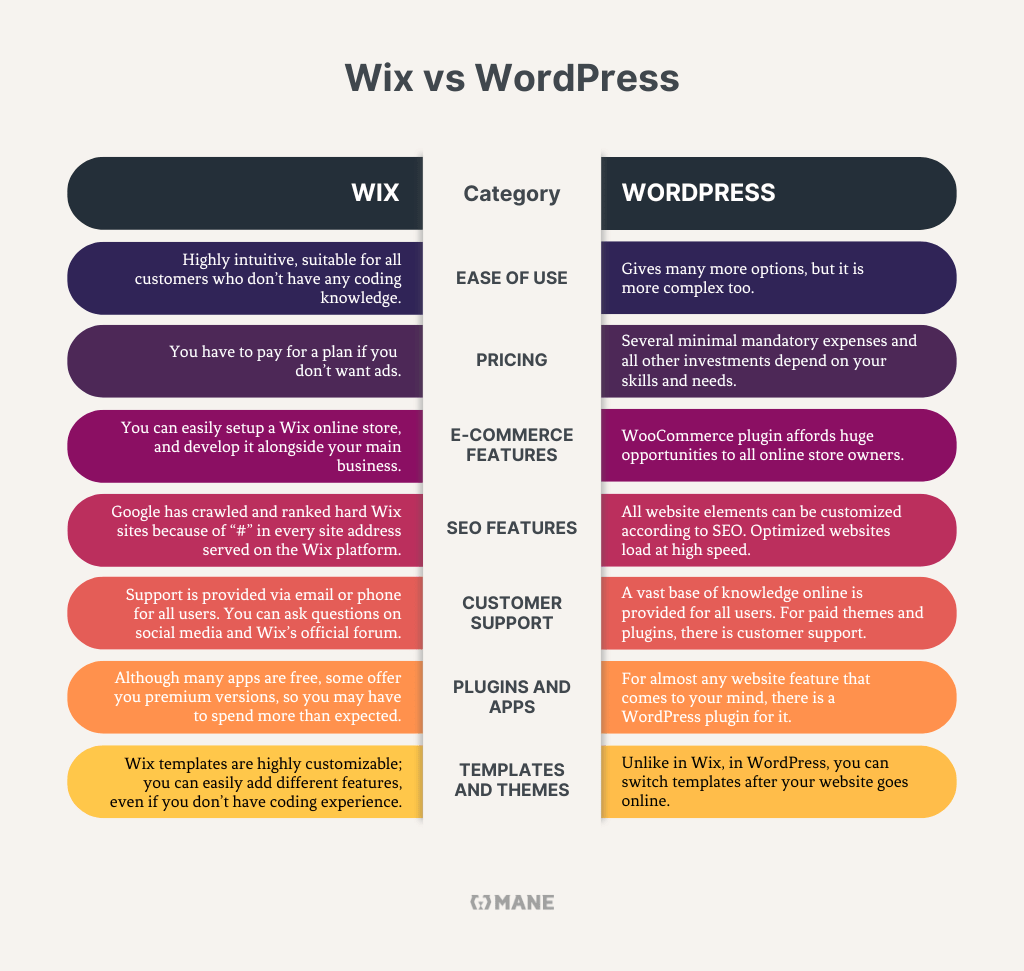 WordPress – Pricing
First and foremost, WordPress is an open-source solution and is free. If you choose WordPress to build a site, many things depend on you, your technical skills and your budget. There are only a few expenses that are mandatory for setting up a site on this powerful platform: 1. Hosting, 2. Domain, 3. SSL certificate. All other costs are either potential or recommended: 1. Premium themes, 2. Paid plugins, 3. A developer, etc…
Wix vs. WordPress Pricing comparison: Unlike at Wix, where you have to pay for a plan if you don't want ads, in WP, you can develop a website with minimum expenses. Before you start the build of a website, we recommend you to try to predict as many expenses as possible and to make your plan and budget accordingly.
Vote for: WordPress
Wix – eCommerce
eCommerce features have been built into the Wix platform. As we have already seen, Wix has eCommerce plans created for those who want to have an online store as a part of their business. You can easily set up a Wix online store and develop it alongside your main business.
WordPress and WooCommerce
WordPress has a popular plugin for eCommerce called WooCommerce, which has been used in more than 42% of all eCommerce sites in the world. Not only is it one of the most developed eCommerce platforms, but it has unlimited options for customization. You can create an online shop just as you imagine. Of course, if you have technical skills and knowledge or find a developer who will fulfill your wishes.
Speaking about prices, WooCommerce is a free plugin, although users usually need to implement extensions that have to be paid.
Wix vs WooCommerce comparison: Especially if eCommerce is your primary business, we consider WP with WooCommerce a better solution.
Vote for: WordPress with WooCommerce 
Wix – SEO
Wix gives pretty good options for on-site SEO. You can optimize meta titles and descriptions, make URLs SEO-friendly, and even change the header code.
All these actions are possible within SEO apps available in Wix's app market. The most popular is Site Booster, which helps a business appear on Google, Bing and a few other search engines.
However, there is one feature that affects URLs negatively. "#" or "hashbang" has been contained in every site address served on the Wix platform. Unfortunately, because of that, those sites have been crawled and ranked hard by Google.
And one more important thing, Wix sites' load speed is lower than one of the WordPress sites, which gives them a minus in our comparison.
WordPress – SEO
The whole platform can be optimized completely in every area. There is also a well-known plugin, Yoast, widely used by WordPress customers. If you don't hire a professional or agency, it can make the site optimization process easier.
Wix vs. WordPress SEO comparison: Taking into consideration Wix's URLs issue, as well as low-speed load, we recommend you use WordPress, especially in the event organic traffic and rankings on Google are important to your business.
Vote for: WordPress
Wix – Customer support
For all users of Wix subscription plans, support has been provided via email or phone. Or you can ask a question on social media and Wix's official forum. Also, as already mentioned, if you decide to take one of two VIP plans, you will have priority in getting a response when needed.
WordPress Customer support
WordPress is a free and open-source platform; there is a massive base of knowledge online in which you can find an answer to practically all issues you may have. Besides, for paid themes and plugins, you will have customer support you can contact and seek an answer from.
Wix vs. WordPress customer support comparison: We were not sure which of the two platforms to give a vote on. However, we chose Wix because Wix support is easier to get to.
Vote for: Wix customer support 
Wix – Apps
Like WordPress plugins, Wix's App Market offers more than 300 third-party apps that can improve your website's design, performance, etc… You can be confident that all of them are compatible with each other and the template you choose. Wix checks every app before launching.
According to the latest data, Wix users are installing, on average, 44,000 apps per day, which is a significant number!
Some apps enable live chat widgets, shopping carts, marketing tools, etc… Although many apps are free, some offer you premium versions, so you may have to spend more than you have expected.
WordPress – Plugins
There is a WordPress plugin for almost any website feature that comes to your mind. Some of them are free, and some of them have a premium version. WordPress provides great possibilities and potential for site owners.
Wix vs. WordPress plugins comparison: Although Wix apps have to be compatible with all other site elements, many more plugins exist in the WordPress database. They give almost unlimited possibilities for your website.
Vote for: WordPress
Wix – Templates
Similar to WordPress themes, Wix has "templates." There are 500+ templates for their users to choose from. Like apps, templates work correctly with all other elements without needing to change something in the code.
Wix templates are highly customizable, and you can easily add different features, even if you don't have any previous coding experience. Also, if you choose any of Wix's plans, a library of free photos, graphics, and videos will be at your disposal.
WordPress – Themes
As we already mentioned, WordPress is open-source. Everyone can create a WordPress theme and offer it to customers. There are a TON of themes in the WordPress database. Although not all of them will work perfectly, nor are they all adjusted for the latest WordPress update. However, there are enough to choose from and create a miracle.
Wix vs. WordPress themes comparison: Although there are far fewer Wix themes than WordPress, they are all controlled by Wix, so issues are sporadic. However, unlike in WordPress, in Wix, you cannot switch templates after your website goes online. That is the reason why we vote for WordPress.
Vote for: WordPress