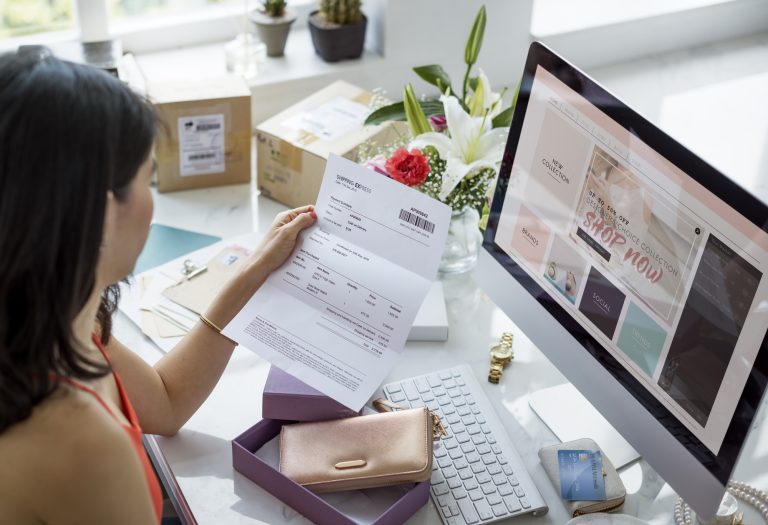 10 Best WordPress Plugins for eCommerce in 2023.
Introduction
On the internet, there are over 60 million websites that use WordPress, and despite its immense popularity, WordPress is free to use because it's open-source, which hypothetically means that anyone can access and modify all of its code. However, despite safety concerns, WordPress is secure and safe enough to use for an e-commerce firm. Whether you are aware of this fact or not, choosing the right eCommerce service and solution for your WordPress website is crucial if you want to enhance the likelihood that your company will grow and generate more income. Here are the 10 best WordPress plugins for eCommerce in 2023, according to our own developers: 
WooCommerce Plugin
The most popular open-source eCommerce platform in the world is WooCommerce.
WooCommerce is totally free. It offers flexibility and customization and is the foundation of most online stores.
Anyone can easily create an eCommerce store in only two minutes. It doesn't matter if you are selling digital or real goods.
Key features:
Adding new features to your online store is straightforward, thanks to a wide variety of WordPress themes and native WooCommerce plugins. These comprise the capability of giving up on art, managing inventories, dispersing discount coupons,

Abandoned Cart Recovery

, and more.

Both physical products and digital downloads are accepted.

Simply manage your inventory or hand it to the WooCommerce store manager.

Support for popular payment gateways is already built in (plus you can includea variety of payment gateways and features like inventory management and abandoned cart recovery.

 

Calculate tax, shipping expenses, taxes, and other expenditures automatically.

Excellent assistance, including a help desk, knowledge base, and forums for community members
Scalability is WooCommerce's biggest flaw, and switching to dedicated web hosting will be required if your store grows in size. Also, WooCommerce offers excellent support through a help desk, knowledge base, and community forums to help you along the way.
In other words, it is the most effective approach to starting your online business and one of the most effective plugins.
Why LiteSpeed Cache is Essential for Your Online Store
Website speed optimization is crucial, not only for eCommerce websites but for websites in general. And a site that has slow page speed is at a disadvantage since slow websites and waiting for waste visitors' attention and interest.
LiteSpeed Cache is a LiteSpeed Technologies product that addresses this issue by improving dynamic content on web pages.
It works by storing a content copy of a website for future requests, requiring less processing power when the request is made.
Key Features
Single Site and Multisite (Network) support

WebP image format support

Image Optimization (Lossless/Lossy)

Minify CSS, JavaScript, and HTML

Combine CSS/JS

Lazy-load images/iframes

Responsive Image Placeholders
Maximize Your eCommerce Potential with Gravity Forms
Gravity Forms is a premium plugin for WordPress whose main feature is creating and implementing custom order forms, customer surveys, and other forms that can be used to gather important information from customers. 
 If you ask a question related to security issues and if this plugin is compliant with GDPR, the CCPA and other data privacy acts, you don't have to worry. It offers robust security measures to protect sensitive customer data, and provides detailed reporting and analytics to help you track the success of your forms.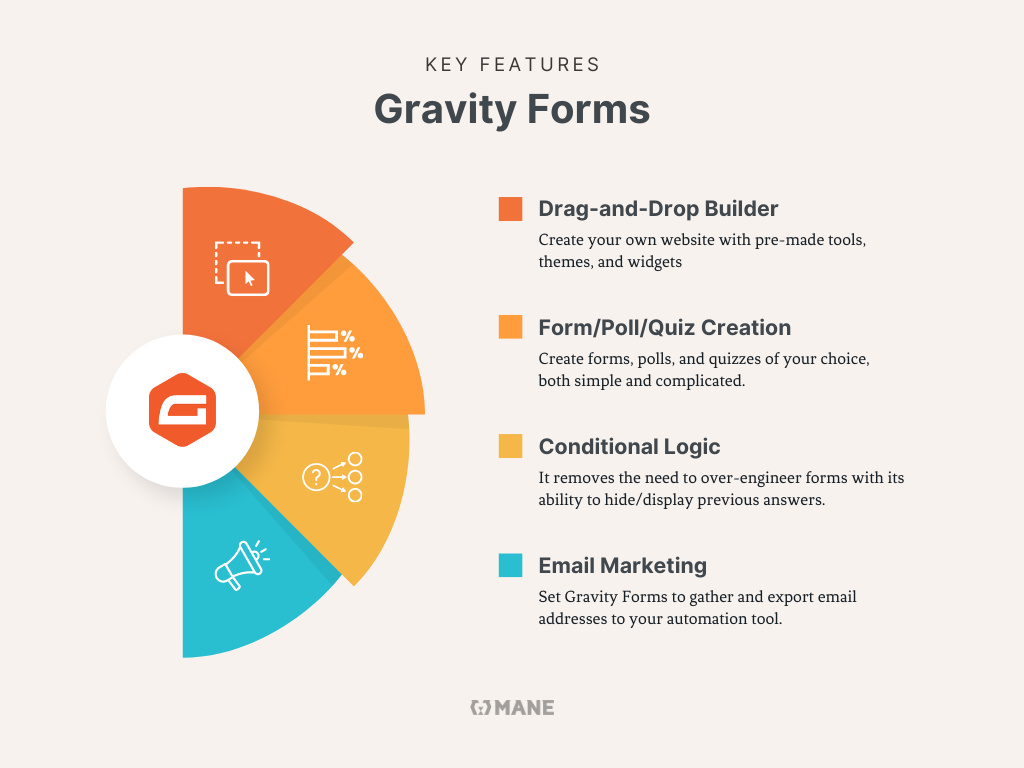 Key features:
Allows you to create your own website with pre-made tools, themes, and widgets.
Allows you to create forms, polls, and quizzes of your choice, both simple and complicated.
It removes the need to over-engineer forms with its ability to hide/display previous answers.
You can easily set Gravity Forms to gather and export email addresses to your automation tool.
ACF – The Advanced Custom Fields Plugin for Your WordPress Store
Advanced Custom Fields – ACF allows you to add extra data to your products and create custom product pages with more information and options for your customers.  You can do that by adding custom fields of various types, including text fields, checkboxes, select lists etc. to pages, posts, or custom post types. 
Additionally, ACF offers a range of developer-friendly features, such as the ability to create custom functions and action hooks, making it a great plugin for advanced users who want to customize their store's functionality. 
It is a free plugin, but there is also a PRO version available, and it comes with additional features.
Free Key Features:
Powerful Functions

Over 30 Field Types

Extensive Documentation
Pro Key Features:
It enables you to create a set of subfields that can be repeated indefinitely.
It provides you with additional sub-field options and allows multi-layering
Create completely customizable image galleries 
Yoast SEO 
Yoast SEO is widely considered one of the best SEO plugins for WordPress because it includes a wide range of features and tool that can help you to enhance your website's ability to rank on search engines. Not only does it analyse content of the page and suggests on-page improvements, but it also takes care that the content is easy to read and understand.
Yoast also includes features that help users optimize their website's technical SEO, such as generating both XML sitemaps and robots.txt document, as well as connecting your website to Google Search Console.
It can be downloaded for free from the WordPress plugin directory, but a paid version also provides the user with more features and additional support.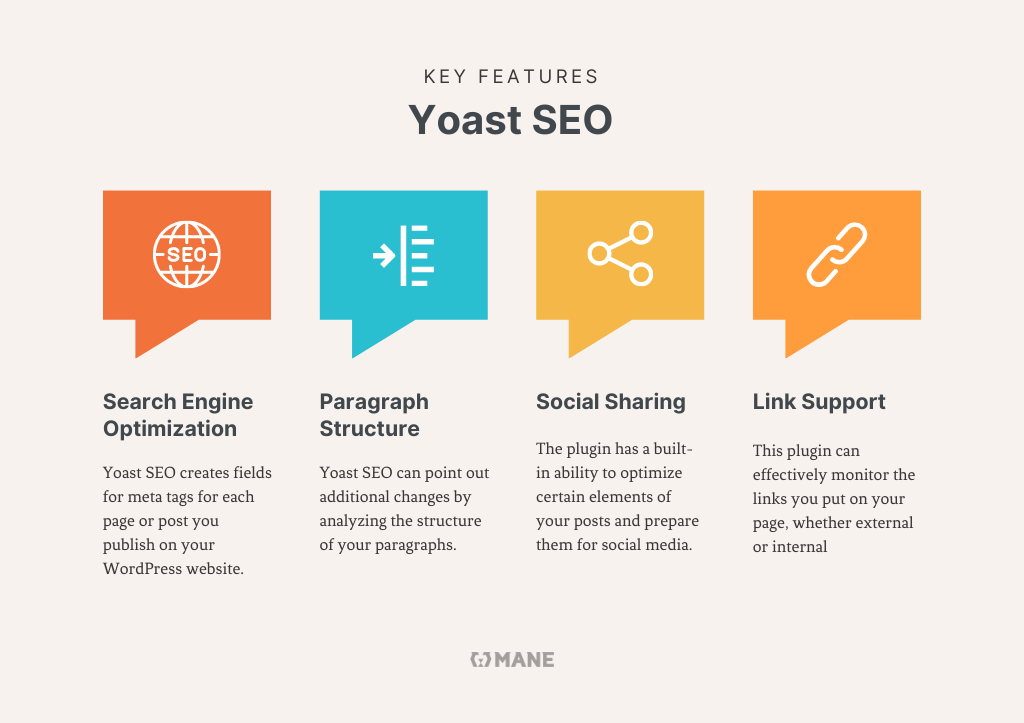 Key features:
Search Engine Optimization
Yoast enables users to take care of different aspects of SEO. It creates fields for meta tags (meta titles, meta descriptions, alt tags) for each page or post you publish on your WordPress website. Also, it covers parts of technical SEO, creates a sitemap, and gives options for structured data snippets setup. 
Helping an average person understand your content is one of, if not the most important tasks you have as a website creator. Yoast SEO can point out additional changes by analyzing the structure of your paragraphs.
With its built-in ability to optimize certain elements of your posts and prepare them for social media, it can be very helpful for keeping your audience's attention.
This plugin can effectively monitor the links you put on your page, whether external or internal. Using links can help visitors find additional relevant content. 
WordFence
Wordfence is a WordPress plugin that provides website security and protection against cyber threats. The world's largest malware database for WordPress-specific websites is kept up by Wordfence. They create malware signatures using this data in order to stop intrusion attempts and identify malicious activities. There are four versions, a free version that comes with essential tools and three other paid versions.
The key feature of Wordfence is its ability to scan your website for security vulnerabilities and malware. It does this by regularly scanning the website's files and comparing them to a set of known security issues. If it finds any potential security threat, it will alert you and provide recommendations for how to fix it.
Wordfence also includes "Endpoint Web Application Firewall", which protects you from malicious attackers targeting WordPress. Other prominent features are the IP blocklist, malware scanner, two-factor authentication, alerts…
UpDraft 
UpDraft is a backup plugin offers a wide range of features and tools to help users create and manage backups of their websites. Its main operation is to do automatic data back-ups from web site to servers on a regular basis.
 It allows you to schedule backups to run at specific intervals, such as daily, weekly, or monthly, and to store the backups in a variety of cloud storage applications, like Google Drive, Dropbox, and Amazon S3. Updraft also gives you an option to restore your website from a backup with just a few clicks, making it easy to recover from any issues that may arise.
On the top of that, Wordfence plugin enables you to optimize your website database, de-duplicate posts and comments, and to schedule automatic cleanup of old backups. 
It is free. However, buying a paid version comes with more vital tools.
Key features:
Runs everywhere that WordPress runs.

Multi-site (i.e. WPMU/WordPress Network) compatible.

Backup sites of 100GB.

Backs up an unlimited number of external databases and non-WordPress files.

Incremental scheduled backups
Cookie Notice & Compliance to GDPR/CCPA
Cookie Notice offers a straightforward, editable website banner that can be used to assist your website in meeting certain cookie consent requirements imposed by the CCPA and EU GDPR cookie laws. It also features seamless integration with Cookie Compliance to assist your website in meeting the most recent revisions to existing consent laws.
Key features:
Customizable notice message

Consent on click, scrolling or close

Multiple cookie expiry options

Link to Privacy Policy page

WordPress Privacy Policy page synchronization

WPML and Polylang compatible
WPML – the WordPress Multilingual Plugin
WPML is the world's best multilingual plugin. It comes with over 40 languages and variants, and more can be added through its built-in language editor. In WPML, you can translate pages, posts, custom post types, taxonomies and other elements.
There is also an advanced translation management option. WPML allows you to manage your translations more efficiently. You can assign translation jobs to translators, track their progress, and approve or reject their work.
Key features:
Multilingual & Multi-Currency E-Commerce
Helps build and run multilingual and multi-currency WordPress eCommerce sites.
You can translate text in other plugins and in administrative interfaces.
Automatic & Human Translation
Translation can be both automatic and human. Automatic translation is powered by Google, DeepL, and Microsoft, while human translation is done by professionals.
Ecwid Ecommerce Shopping Cart
Ecwid Ecommerce Shopping Cart is a free plugin that helps users create their own built-in store for their WordPress website. It is one the most popular eCommerce plugins, covering over 40 payment methods and accessible in 45 languages. This WordPress plugin is a good option for small businesses trying to reach the market and new customers.
Key features:
Tax & Shipping Calculator
Since it's integrated with many major carriers, such as UPS, USPS, FedEx, Canada Post, and so on, it can automatically calculate shipping expenses and tax costs.
Connectivity with Meta (Facebook and Instagram)
Your online store can easily be added to Facebook and Instagram. Ecwid will synchronize your physical or digital products, customers, orders, and inventory between your WordPress and Facebook stores. 
Security and Data Servers
Data that is put on your website is automatically backed up to a server. There is no limit when it comes to storage, backups are regular, and security updates are automatic and up to golden standards that come with PCI DSS Level 1 certification.
Conclusion
To us, these were the essential WordPress plugins for eCommerce.

The best solution for your eCommerce business depends on you and your desires!

There is something for everyone, whether you are looking for free or premium plans.

The most flexibility, features, and control will be granted by WooCommerce, which is why it's the most popular solution in the world.

LiteSpeed Cache is there if you're looking for a fast and well-optimized page.

For surveying, quizzing, and decision-making, Gravity Forms is promising.

Advanced Custom Fields provides you with top-notch content management tools.

Yoast SEO has your back if your goal is to reach the most eyes and obtain the most views and clicks possible.

 WordFence will protect you from potential danger.

Updraft will give access to a space where you can backup your website data.

Obeying the international rules concerning cookies and privacy can be made seemingless with the help of Cookie Notice.

WPML is going to make transferring your business across different countries and regions a stroll through the park

And with Ecwid, you can easily make the online store of your dreams.
Ready to embark on your eCommerce website design journey?
Get in touch with our experts today and see how we can help you!