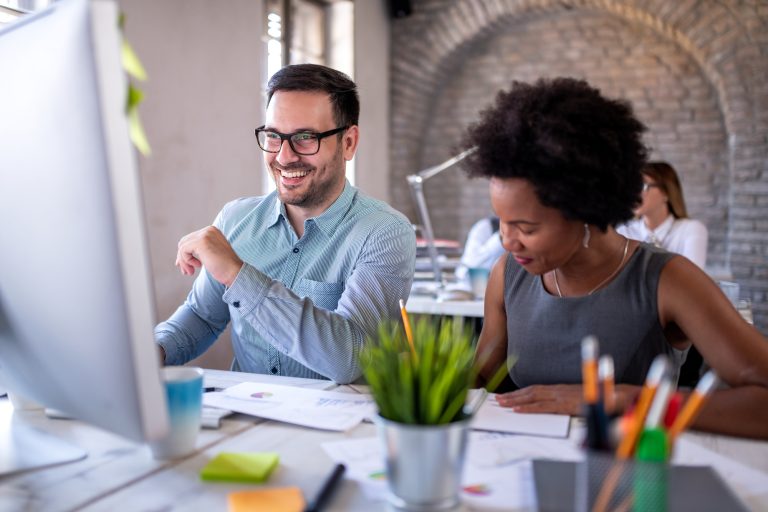 White Label Partnership In Web Design Industry – Pros & Cons
Introduction
What is a white-label partnership, and how can it help you grow your business exponentially? In the days when the workload is getting heavier and the need for an experienced workforce is on the rise, having enough time and human resources to work on the growing needs of your clients can be a true challenge. But you don't have to go at it singlehandedly, as all you need to do is find a reliable white-label partner who will help you surpass challenges while saving your time, money, and energy.
What is a White Label Partnership?
Simply put, a white-label partnership allows one to grow their business without extra work and effort. We know – it sounds too good to be true, but a stellar white-label agency of your choice will soon prove that some things can be that good.
As soon as you form a white-label partnership agreement, you will have someone to work on your clients and their accounts on your behalf. They will use your branded email, and they could take it one step further by creating a social media alias that will be used for communication with your clients. This partnership is where everyone ends up happy, making your white-label partner a powerful tool for reaching your business goals.
White Label Partnership in the Web Design Industry
The web design industry is rapidly growing, with businesses expanding beyond what they thought was possible. Once the high volume of work starts weighing heavily on your shoulders, the time is right to opt for a white-label web design reseller who can provide the required services and help you get the job done without hurting the overall quality of the end product.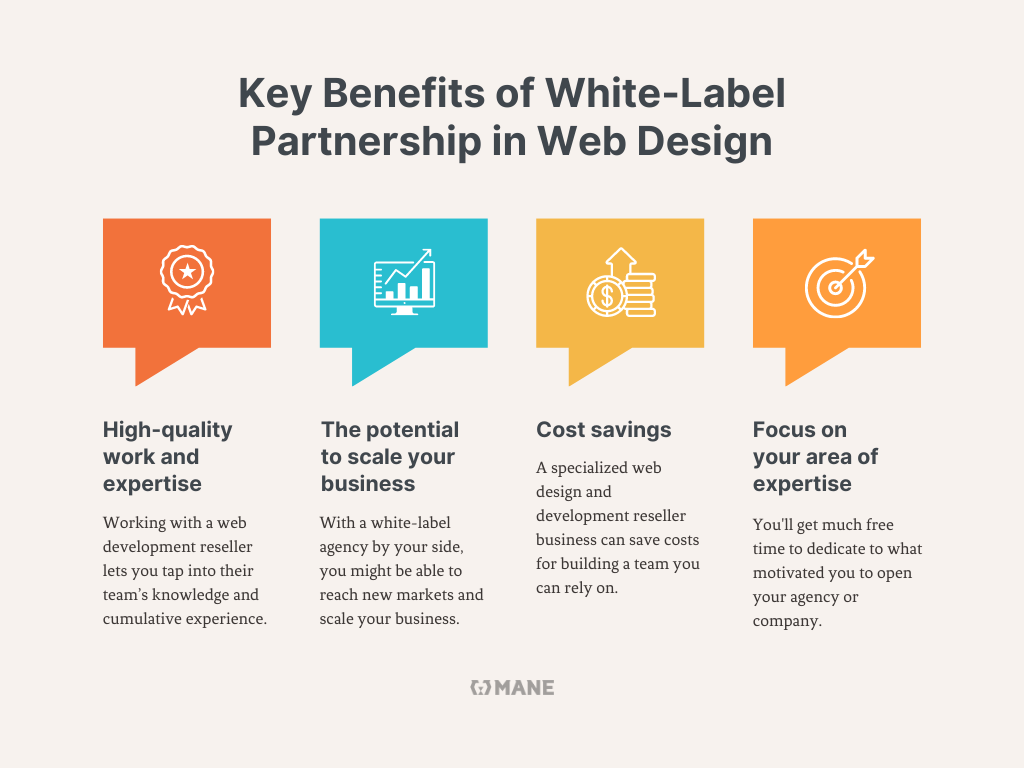 Mane Digital, your white-label web design and development partner, already has a team of skilled web designers and developers working in their corner, making it possible to deliver high-quality results on a short deadline. Besides, we will provide support before, during, and after developing a website. Should your clients encounter any website problems, you can count on us to fix the issue promptly.
White Label Partnership Benefits
Outsourcing work to other people/agencies is a smart way to accomplish more things. By doing so, you get to avoid all that additional hassle of hiring people within your agency and going through all those extensive rounds of interviews. Instead, you can opt for a white-label reseller program that suits your needs and start experiencing one of the following benefits right away:
High-quality Work and Expertise in Fields in Which You Don't Have Experience
Developing a website entails extensive experience and expertise in different skills and areas. There's a good chance that your team might be lacking some of those due to the lack of training or inexperience. Working with a white-label web development reseller lets you tap into their team's knowledge and cumulative experience. And by doing a fine job and choosing the right partner, you'll get to enjoy a high-quality product with zero invested time on your part.
Cost Savings
You already know how much it costs to build a team of people you can rely on, which comes after learning they are good at what they do. Now imagine how much it would cost to add teams specializing in coding, design, SEO, affiliate management, PPC, etc. Why go through all that trouble and waste so much money when a web design and development reseller business can do that for you?
The Potential to Reach New Markets and Scale Your Business
As a business owner, striving to grow your business beyond its current proportions is natural. With a white-label agency by your side, you might be able to do so more efficiently. Once the workload gets heavy, and your team members struggle, your white-label partner will rescue you. They will take some of the pressure on themselves, allowing you to scale your business and providing you with the opportunity to do and achieve more.
Time to Focus on Your Area of Expertise
Don't we all dream of being able to do only those things that we love and leave the rest to someone else? Well, now's the right time to make your dreams come true. With a trustworthy white-label web design reseller working by your side, you'll get a lot of free time to dedicate to that thing that motivated you to open your agency or company in the first place.
Before You Get Started, You Should Pay Attention to
You don't want to rush into a white-label website reseller program without gathering specific information. Generally speaking, there are a few things you will want to investigate before sealing the deal with a white-label partner of your choice.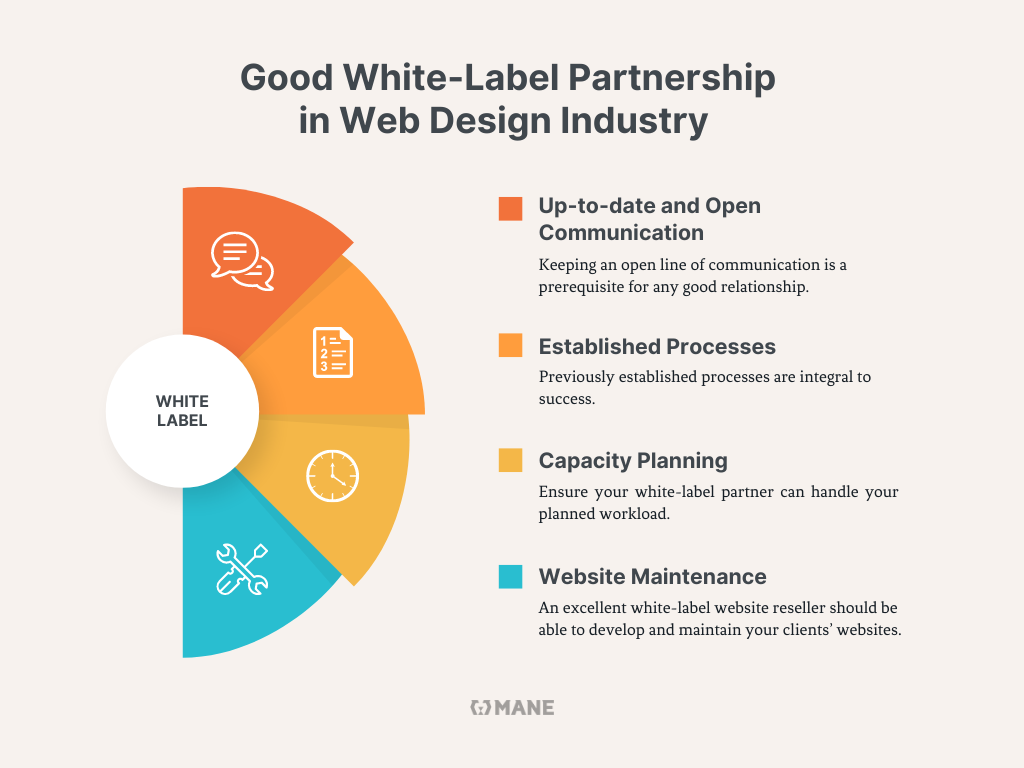 Way of Communication With the Clients
Keeping an open line of communication is a prerequisite for any good relationship – and this goes for both personal and business relationships. One of the main things you'll want to focus on is how your white-label web design & development agency communicates with you. Do they keep you updated about everything that's going on? Do they provide you with timely responses? The last thing you want is to wait ages to hear back from your white-label partner.
Established Processes
Knowing whether your white-label partner works by previously established processes is integral to success. Knowing which tools and resources they use in website development will help you gauge how good of a partner they will be.
Capacity Issues
Sometimes, your workload will surpass that which you can physically handle. That's the first reason why you found yourself looking for a web design reseller business in the first place. Ensuring your soon-to-be partner isn't in your predicament is essential. Ensure they can take you on before signing any white-label partnership agreement template.
Maintenance Issues
Finally, an excellent white-label website reseller should be able to develop and maintain your clients' websites. Developing a website is only step one, and you don't want that to be the end of the journey. Make it your task to determine whether your partner can put the same amount of work into maintaining a website as they can toward its development.
Conclusion
Choosing our white label agency Mane Digital can be one of the best things you can do for your growing business. It will enable you to focus on those things that matter and let us take on a significant portion of your workload. All the while, you'll be able to count on a high-quality web development product and the timely delivery of that same product. You will admit that it's truly a win-win kind of situation.