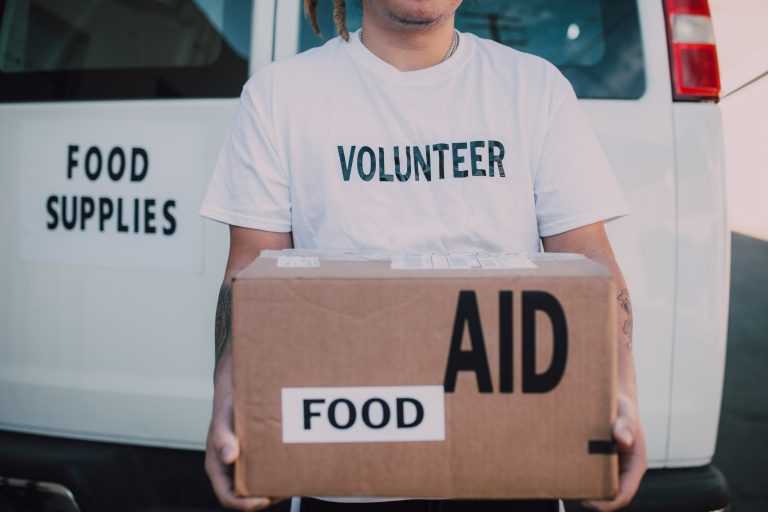 CMS for Nonprofits – 8 Factors You Should Take into Consideration
Introduction
CMS software allows users to create, manage, and modify content on a website without needing coding expertise. It makes it easy to build a website without knowing how to write code and helps you get a website up and running quickly. Nonprofit organizations often rely on a CMS to manage their content because of the many unavailable or inaccessible features for free with other options.
The platform is especially the best option for nonprofits without an in-house developer. As it is easy to use, you and your team will be able to quickly learn how to use a CMS and add or modify content on your website, which can save you valuable time and money. CMS platforms are essential in creating a positive user experience, improving website performance, increasing site traffic, and making edits quicker.
What factors to consider when choosing a CMS platform for your nonprofit? Selecting the best CMS for your nonprofit will help you improve your site's efficiency and allow you to spend more time doing what you do best – serving your customers. Below are some factors to consider when choosing the best CMS for your nonprofit.
Ease of Use
If you are going to take up the task of building or updating your website in-house rather than providing professional web design services for nonprofits, you want to ensure that your CMS platform is easy to work with.
Some platforms have a more significant learning curve than others; for example, a content management system hosted on-site will be more work than a SaaS CMS, so look at your team's technical ability and the necessity to maintain and process the technological system in question.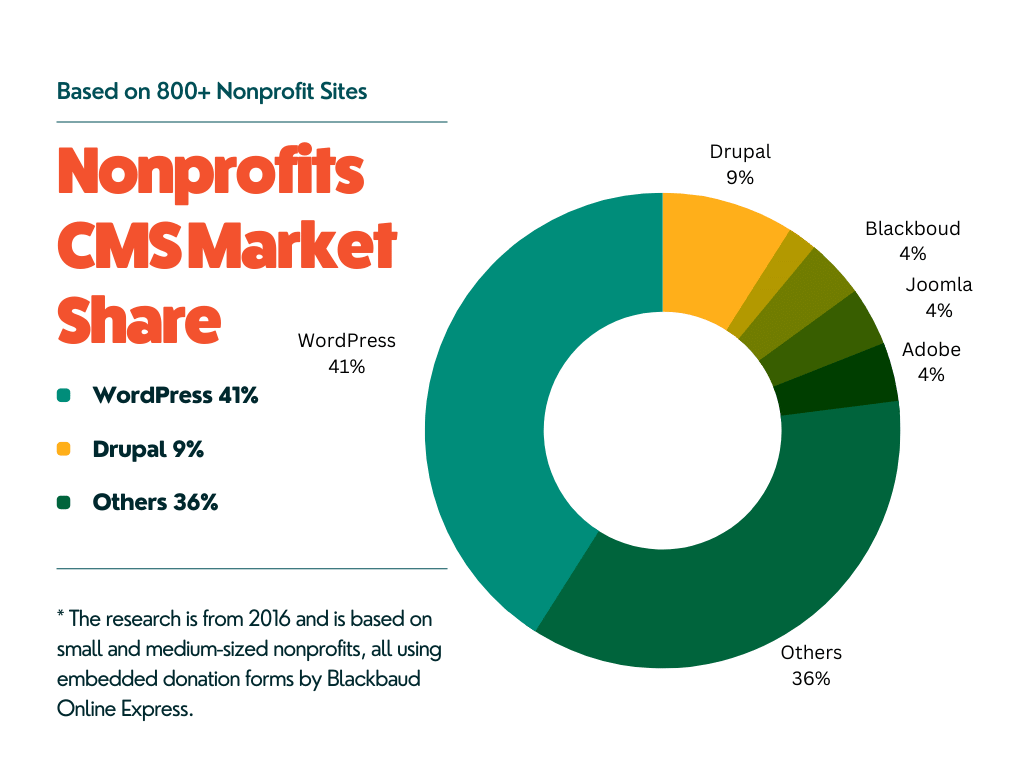 The best CMS platforms allow you to add content quickly and easily using drag-and-drop features with no coding. It is also essential to consider what kind of technology can be easily integrated into your nonprofit. Finding a CMS platform that is easily compatible with your organization's systems would be helpful if you do not have the in-house expertise to accomplish a CMS integration.
Level of Your Web Design and Development Experience
Your web design and development experience will also determine your CMS platform. If your nonprofit lacks in-house developers, you should choose a platform that is easy to use, as it will be easier to manage your content.
Nonprofit users who are web design professionals may prefer a more complex CMS that offers more advanced features to be utilized in creating their website.
Payment Processing Options
Before choosing a CMS for your website, you must consider how your nonprofit will process payments and donations. One of a nonprofit CMS's most valuable features is the ability to accept online donations or payments. When considering a CMS for your website, it is essential to consider each platform's various payment processing options.
Understanding the payment processing options will allow you to determine which CMS supports your nonprofit's donation goals and needs. The best CMS for nonprofits should have an easy-to-use interface for accepting online payments.
It should be easy to add, process, and manage your nonprofit's financial transactions. Deciding on a payment processing option should be based on your nonprofit's needs, financial capabilities, and the goals for your website.
Your Budget
When choosing a CMS platform, the amount of money you intend to spend on the CMS platform should also be considered. Most of the best CMS platforms have different pricing plans, from inexpensive plans small businesses offer to high-end enterprise products.
Knowing what you can afford is essential, especially since a poorly chosen CMS platform can cost you a lot more in the long run.
Users and Roles Management
You must choose a CMS platform with a user and roles management system. This will allow you to set permissions for different users on your website and dictate what they can or cannot do.
The best CMS platforms can let non-tech-savvy users easily create, edit and manage content without needing any prior technical knowledge. This makes it easy to control the content on your website, which is essential in providing your users with the best experience.
Ongoing Support and Maintenance
Another important factor when choosing a CMS platform is the ongoing maintenance and support the platform will supply. This will ensure that your nonprofit can get answers to any questions you may have and that there are upcoming updates available for users.
Customer support is an essential aspect of any CMS platform. Choose a CMS platform that provides a sound customer support system and will be able to provide timely answers to your questions.
Best CMS For Nonprofits
A CMS is an essential tool for nonprofits to use to make their website more accessible, user-friendly, and efficient for users. A good CMS will help your nonprofit keep up with the latest technologies and provide a positive user experience. Here are some of the best CMS that can help your nonprofit.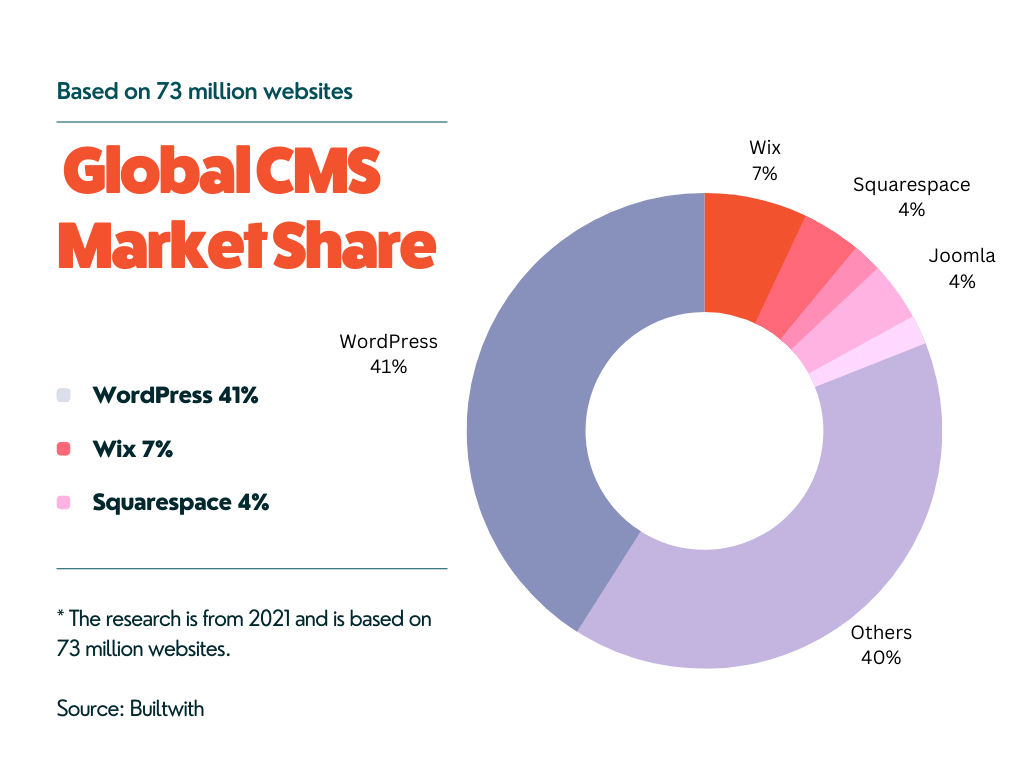 WordPress
WordPress is a popular content management system, as Blackbaud's survey revealed. Nearly half of nonprofit respondents used it. WordPress is open-source software that is free to download and use. It is easy to install, set up, and maintain, with a large variety of plugins to choose from in the marketplace for specific needs. WordPress is easy for users without any technical experience, but it also has advanced functionality for those who want more customization.
WordPress also allows you to customize the appearance of your website with themes and plugins. It is a good option for nonprofits who want to build a site from scratch and hire an in-house team or an agency to design their website.
One example of a WordPress web development and design company is MANE digital, with a great portfolio of WordPress projects such as WFU Center for Private Business, Girls in Tech, Arteries' project, and many others.
Wix
Wix is a cloud-based website builder designed to help users create an online presence. Comparing Wix vs WordPress, its user interface is more simple, rather intuitive, and fast to use. It works on any device, anywhere in the world, and is responsive.
Wix has its website builder templates, widgets, and more which can be added to your site through their marketplace. Wix is great for people with limited technical experience who want to create an online presence for their organization.
Shopify For Nonprofits
Shopify is a professional e-commerce platform that makes it easy for businesses to sell online. Shopify has many great features for nonprofits to use for their online sales, including custom fulfillment, in-store pickup, and promotions.
Shopify offers many marketing tools, meaning your website will be searchable by local consumers and people worldwide. It makes it easy for individuals without web design experience to create an online store for their nonprofit.
In comparison with WordPress, Shopify provides low-cost packages to nonprofits and charities, making it more affordable than many other website hosting companies. There are no setup fees, and their platform is user-friendly without requiring HTML coding expertise.
Conclusion
In conclusion, using a CMS platform is one of the most vital things a nonprofit can do to ensure its website is up-to-date, easy to navigate, and informational. A good CMS should provide the tools and training you will need to maintain your website. Choosing the suitable CMS will create consistency in your organization's online presence, enhance usability and help search engine optimization. MANE digital is a web development and design company that makes custom websites for nonprofit organizations. We take care of the entire project from start to finish, from design through implementation to final testing and maintenance. Contact us to learn more about how we can help your nonprofit website or business grow.