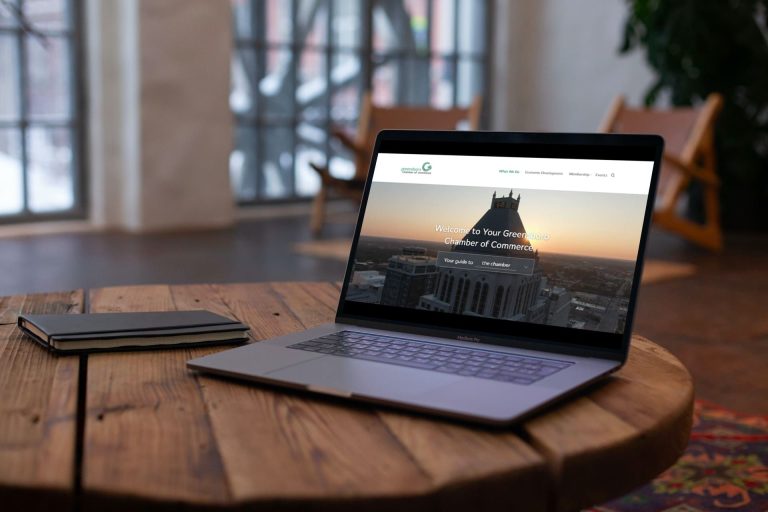 Webflow vs. Squarespace: A Comprehensive Comparison for 2023
Introduction
You've decided to join the ranks of hundreds, or even thousands, of successful businesses in your area and build a website that will showcase your products and/or services.
We applaud your decision. However, as much as we would like everything to be simple and easy, there's still one significant decision in front of you – choosing the best website building and management platform for your needs. While many different website builders are available on the market, we'll provide an overview of two very popular options – Webflow and Squarespace.
Stay tuned to find out whether you should opt for Webflow vs. Squarespace – or the other way around.
Squarespace vs. Webflow – Which One to Choose?
Is Webflow better than Squarespace? Or will Squarespace be more to your liking? It all depends on what you are looking for. Webflow allows you to build custom blogs and eCommerce stores using HTML, CSS, and JavaScript. You can do so by using a completely visual canvas, with basic coding knowledge required, which is a huge plus for beginners.
On the other hand, Squarespace is a great option when you want to quickly build a responsive website. With a drag-and-drop solution, you can have a customizable website or online store without spending ages learning how to use the platform.
What is Webflow CMS?
Webflow is a website builder that allows people to design and build mobile-friendly websites. This cloud-based CMS is suitable for most websites. But why use Webflow when there are many other website builders at your disposal?
Webflow comes with numerous advantages:
It provides a secure hosting platform.
You won't have to worry about updating and installing plugins, which are mandatory on some other platforms.
Webflow also has some disadvantages:
While the CMS provides numerous tutorials to get you started, it doesn't offer 24/7 support.
Though the platform provides a hosting option for your website, you will have to purchase a domain separately or through Webflow.
Webflow requires at least basic knowledge of coding and working with UI tools.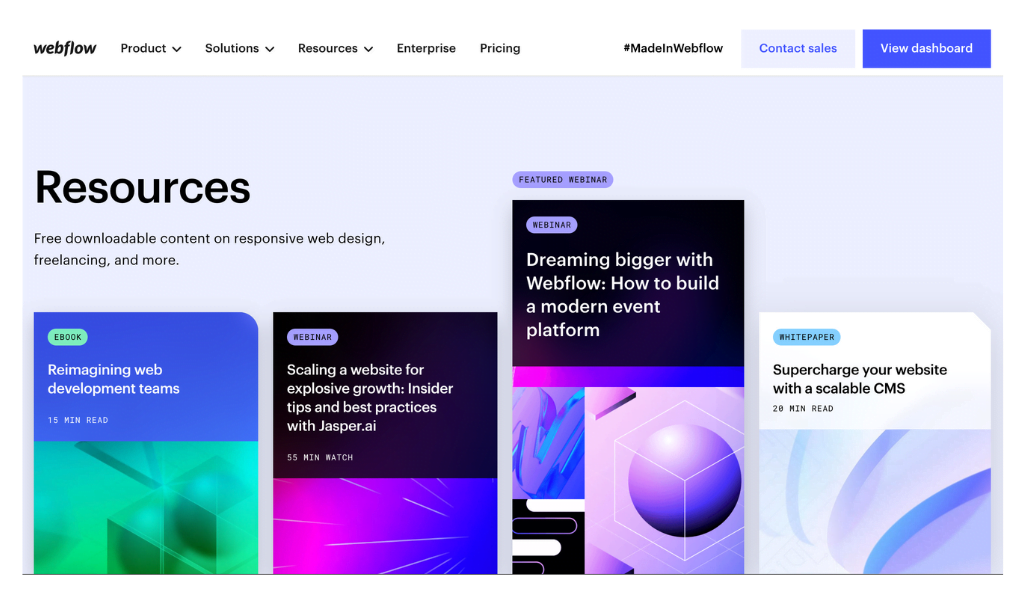 What is Squarespace?
Squarespace is a popular website builder known for its simplicity and aesthetically pleasing design options.
Squarespace's pros:
The easy-to-use drag-and-drop interface makes website creation stress-free, even for those without coding skills.
Squarespace is known for its sleek and modern templates.
It's a more cost-effective website builder compared to Webflow.
Squarespace also has its cons:
Options for customization are less flexible than Webflow. While their templates are aesthetically pleasing, Squarespace provides less design freedom.
Squarespace is not the preferred option if you need a large website or plan to scale it in the future.
Remember, Squarespace's dashboard doesn't auto-save changes you make. This is not a disadvantage per se, but it's a feature you need to keep in mind.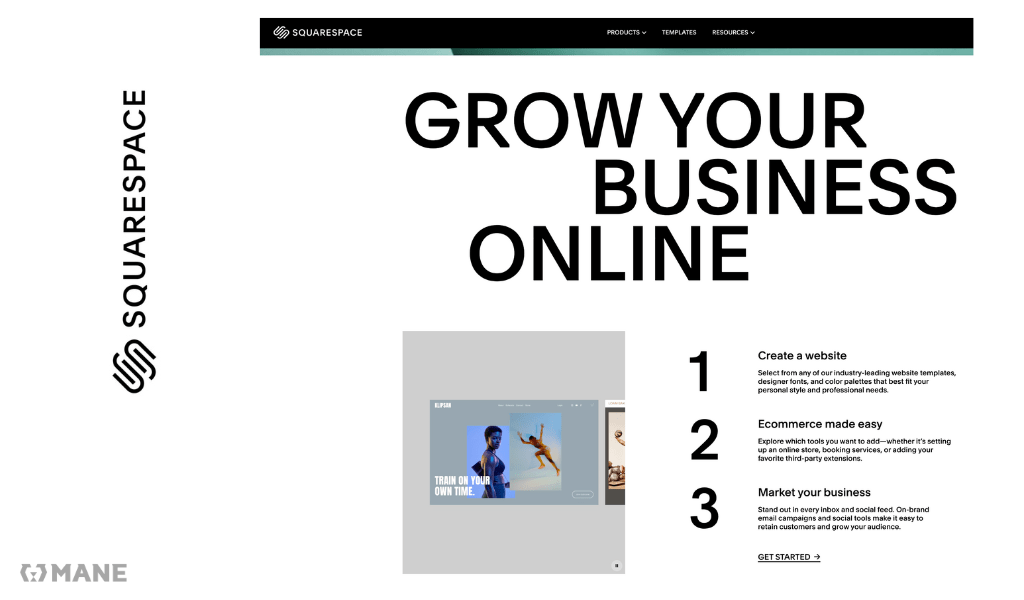 Webflow vs. Squarespace: Ease of Use
There's one thing we know for a fact – everyone strives to find the easiest option that provides maximum benefits at the same time. Well, the good news is that both Webflow and Squarespace are easy to use, but both in their own way.
Webflow relies on a visual editor which lets you create and edit content right on the page that you are building. You can make all the changes that you want and then publish them with the click of a button. Therefore, not only is Webflow easy to use, but it's also considered to be a quick and effective method of website creation.
Squarespace, on the other hand, relies on a drag-and-drop interface. This website builder lets you create and alter webpages by using website templates, all of which are based on the drag-and-drop technique. This feature might remind you of WordPress, which is why Squarespace could be the right option for those who already have some experience with the aforementioned CMS. If you were thinking about comparison of those two CMSs, you can have a glance at our comprehensive blog post, WordPress vs. Squarespace.
Webflow vs. Squarespace: Design and Customization
As we've already mentioned, Webflow relies on its visual design tools. They turn design decisions into production-ready code, ultimately resulting in a responsive website that adapts to the screen size. Furthermore, with Webflow's visual canvas, you can interact with the different elements in your project simply by clicking on them.
In contrast, Squarespace works on a completely different principle. You get to build your website by choosing a template that you like the most. This website builder also includes customizable design features and built-in tools. Its drag and drop elements will enable you to change chosen template but under some extent.
So how do Webflow and Squarespace compare when it comes to the customization options? The answer is that they will both enable you to have a unique website – though Webflow with more space for your custom design.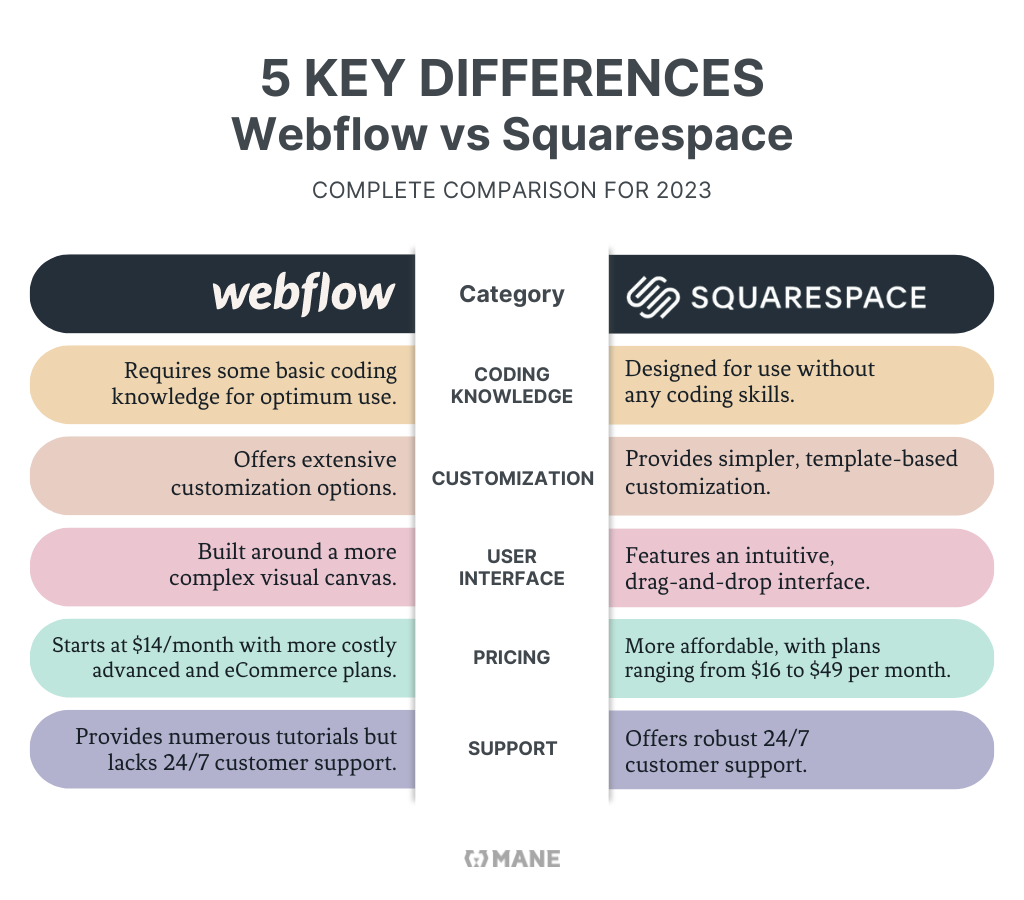 Webflow vs. Squarespace: eCommerce Features
Now, if you own a business that is selling products, then focusing on an eCommerce store is probably going to be your best option. Therefore, you should make sure to choose a website builder that will allow you to create a customized online store in the most efficient way.
You should know that Webflow already has a built-in feature that lets you launch an unique online store built using custom code. This platform's editor gives you full control over the website design, which is how you can end up with an eCommerce store that is 100% to your liking.
Squarespace, on the other hand, once again does what it's best known for – it lets you create a smaller sized eCommerce store by using sleek templates which can be modified to match your brand. The platform also has an excellent inventory system and analytical tools, both of which will come in handy.
As to whether you should opt for Squarespace vs. Webflow or the other way around, it mostly depends on how much resources you are willing to invest in the creation of your store. Squarespace's ecommerce plans are more affordable. However, if you plan to have more than 500 products in it, Webflow would be our preffered choice.
Webflow vs. Squarespace: Pricing
For most people, this part is usually the one that decides which one is the winner.
Let's begin with a short breakdown of Webflow pricing plans.
They make the difference if the website you are building is a general one or it is an ecommerce shop.
Webflow's General Plans
Apart from the free version, you also have a basic plan, which will end up costing you $14 per month.
Then, you have the most popular option – the Webflow CMS pricing plan, going for $23 per month.
Next up, you can decide to go for the business plan, which will set you back $39 per month.
Finally, there's the Webflow enterprise pricing plan, which brings enterprise-level security and compliance to your website. The price for this one isn't listed on the Webflow pricing page, so you'll have to contact them directly.
eCommerce Plans
Those plans are more expensive, especially if you plan to build a larger shop. There are 3 plans.
Standard plan is the cheapest one. It cost $29 per month. It covers shops with maximum 500 ecommerce items and 2,000 CMS items. If you choose this plan, you will have 2% transaction fee.
Plus plan is more expensive, costing $74 per month. Comparing to the previous one, it is larger ten times, and enables you to have 5,000 products and 10,000 CMS items on the website. It includes all features from the business plan
The last, most expensive, Advanced plan is for you if you plan to build an ecommerce shop with 15,000 ecommerce items. It costs $212 on monthly basis, which is not so much if you have a marketplace or some other similar kind of web shop.
Squarespace Pricing Plans
As for Squarespace, you have four different plans at your disposal – personal, business, commerce (basic), and commerce (advanced). The prices for all of these range from $16 to $49 per month, so you could say that this is a very cost-effective website builder.
Conclusion
If you're considering Webflow vs. Squarespace, rest assured that neither choice is likely to be a mistake. We encourage you to try out both of these platforms and base your decision on your personal experience. Both Webflow and Squarespace are user-friendly, offer plenty of customization options, and are great for eCommerce stores. They just approach these aspects in different ways. Squarespace could be the perfect option for those who prioritize affordability and ease of use, while Webflow is more suitable for those who desire greater customization and have some basic coding knowledge.
If you choose Webflow, don't hesitate to contact MANE Digital and schedule a consultation. With our extensive experience in Webflow development services, we're your perfect partner for this exciting journey.