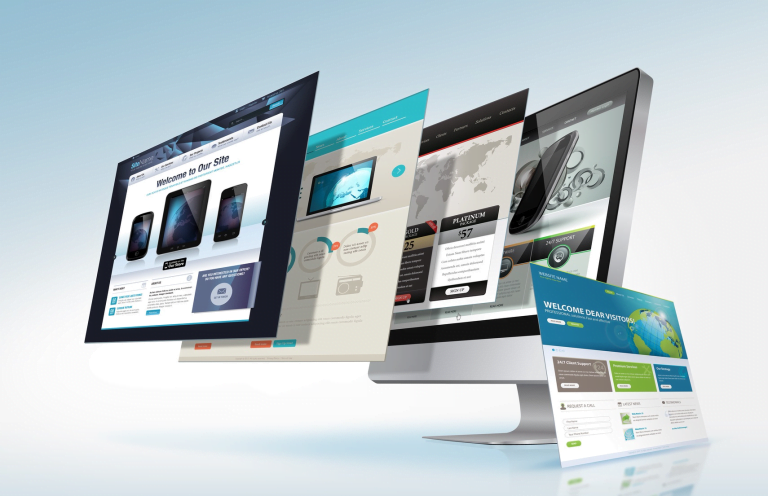 Webflow vs WordPress – Complete Comparison for 2023
You will have to make many decisions if you want to establish a successful website – the first is which platform to use for  aforementioned website development. If you want to create a website quickly and without much technical knowledge, you will most likely opt for either Webflow or WordPress. There are a few things to consider when choosing Webflow vs. WordPress, as paying attention to the main differences and similarities can reveal which platform to rely on.
The two have very different approaches to website creation, as WordPress is a Content Management System, while Webflow is a SaaS application. You probably already know that WordPress is one of the first website-building platforms people think of, as over 34% of all websites are built on WordPress. However, Webflow is a great alternative that might have you hooked once you see everything it offers. Without further ado, here's our in-depth guide on how the two ways of building your website compare.
Criteria for comparison
Ease of Use – User-Friendly Showdown
WordPress – Ease of Use
We often like to point out that WordPress should be your go-to platform if you want to build a website (and a good one) without looking at a single line of code. Owning a WP website begins with installing the WordPress software, which can be done with simple installer tools.
Once the process of installation is finalized, you can then proceed to create the design and layout of what will be your future website. This is the part we truly enjoy, as it grants the creator full freedom to embark on the website design process according to their preferences. The Gutenberg editor or web builder makes it easy to manage your website through blocks, with WordPress themes allowing you to completely change how your site will look without losing any content. Conversely, if you prefer a unique, custom-designed and developed website, WordPress also gives you that option in the full scope.
That said, we can confidently say there shouldn't be a steep learning curve when using WordPress. And should you need any assistance, you can always rely on official WordPress tutorials to help you get started. Apart from official pieces of information that you can find on their website, you'll also come across many tutorials made by WP users, so help is always within reach.
Webflow – Ease of Use
Getting started with a Webflow account is easy, as all you have to do is register for an account. One of the things we love about Webflow is that you have two great options at your disposal. You can use a template to tailor your website, start from a blank slate, and work your way from there.
Webflow's users usually love that it gives you complete control over every element of your website, allowing you to create a site fully suited to your needs. We'd say that the learning curve once you start using Webflow isn't extreme, especially since you have a lot of tutorials and support available at the very start of the process. After signing up, Webflow will launch a short survey to estimate your needs. Afterward, they will present you with a guide about the essential parts of website creation.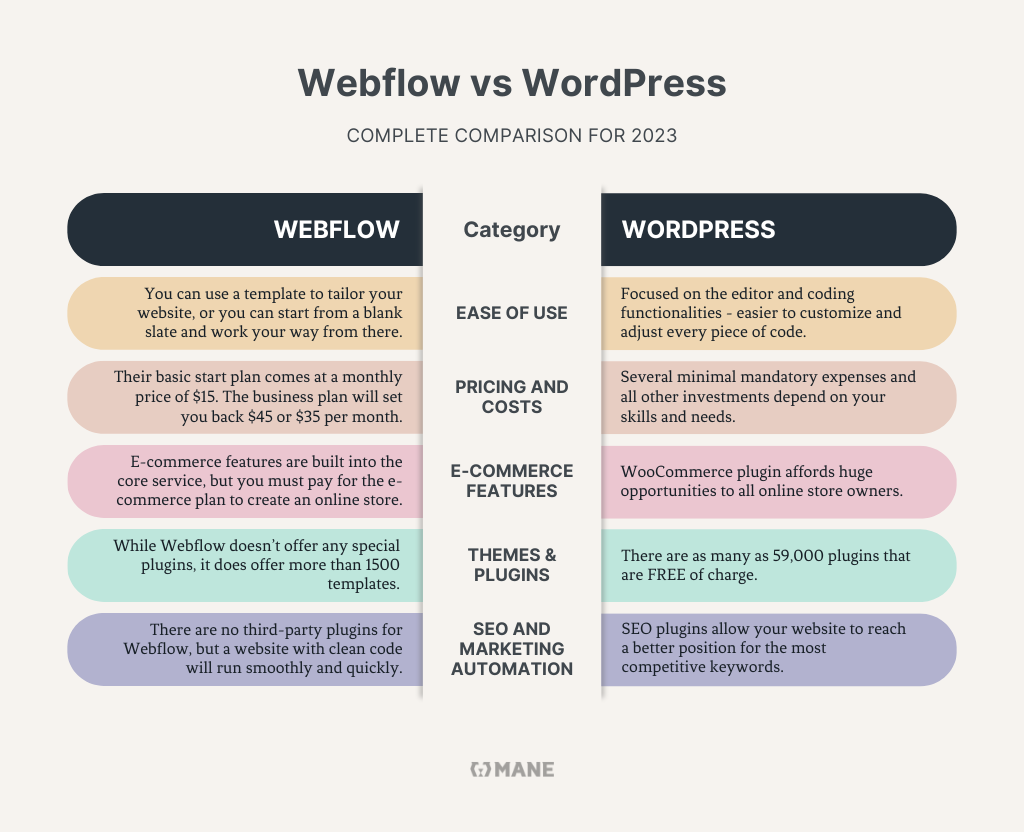 Webflow vs. WordPress comparison
Webflow and WordPress are easy to use, so we don't see you having problems adjusting to their respective MOs. That being said, WordPress is a more predominant platform, so you might be able to find more articles and tutorials regarding its themes, plugins, and generally encountered problems and questions.
Pricing – Which is More Affordable for Your Website?
WordPress – Free of charge
While the WordPress software is free, there are still some fees you can expect to encounter. For starters, you need to choose a web hosting provider, which can set you back $5 to $10 per month for a low-traffic website. However, spending more money on your hosting provider is generally a good idea, as that ensures your website will run smoothly.
Secondly, if you want your WP website to stand out, investing some money in premium themes and plugins will be necessary. With premium themes costing around $50 and premium plugins ranging from $10 to $100, this will be a more significant investment than the one for web hosting.
The third option, if you want your theme developed according to your needs, you will have to remember that designers' and developers' fees can go up to several thousands of dollars.
Webflow – Pricing
When you want your Webflow website to go live, you'll have to opt for one of its plans that comes at a certain fee. Their basic start plan is the cheapest one, and it comes at a monthly price of $15 or $12 per month if you go with an annual payment. The business plan is the most expensive one, and it will set you back $45 per month or $35 per month if you decide to pay annually.
The costs get even higher if you decide to use a paid Webflow template, the price of which can land anywhere between $49 and $79. But if you want a site that stands out, that's a small price.
Webflow vs. WordPress pricing comparison
If you are currently deciding whether to go with Webflow vs. WordPress, know that the latter might be the more affordable option. However, both platforms are generally highly reasonable, considering their significance for your future website.
E-commerce features
WordPress and its E-commerce features
For those looking to run an e-commerce store, WordPress is quite possibly the best option for doing so. This CMS platform lets you add one plugin that's the backbone of most successful online stores nowadays – WooCommerce. Not only is WooCommerce one of the most popular WordPress plugins and one of the most popular ways to build an online store. The plugin makes it easy for you to customize your e-commerce store fully, and it's the right tool for small and large businesses. Its simplicity is one of the things people love most about it.
Webflow – E-commerce features
Regarding Webflow, you can also build your e-commerce store through this platform since these unique features are built into the core service. However, to be able to create an online store, it's a given that you will have to pay for the e-commerce plan. Luckily, there's no code required, so you won't have to possess any particular knowledge to build your store, although it certainly wouldn't hurt the process.
Webflow vs. WordPress comparison
Regarding this criteria, the point has to go in favor of WordPress. This is simply because the WooCommerce platform has taken over the world, and it has even managed to surpass dedicated e-commerce platforms. That's hard to beat.
Themes and plugins
WordPress – a variety of themes and plugins
The massive amount of premium themes and plugins is one of the things WordPress is best known for. And while many unique themes and plugins come at a price, know that there are as many as 59,000 plugins that are FREE of charge.
Many options allow you to customize and tailor your website according to your vision. Likewise, it makes it easy to make your site mobile-friendly and optimize its speed.
Webflow and its templates
While Webflow doesn't offer any special plugins, it does provide more than 1500 templates. You have free and premium pre-designed templates to choose from, and they are suitable for designers, businesses, and personal use. Webflow emphasizes that their templates require no code, so you should be able to customize your website without much trouble.
Webflow vs. WordPress comparison in the sphere of plugins and themes
While both platforms will allow you to create the website of your dreams, WordPress is a slightly better option. The difference is very subtle, and it's best seen in the number of WordPress themes and plugins vs. Webflow templates.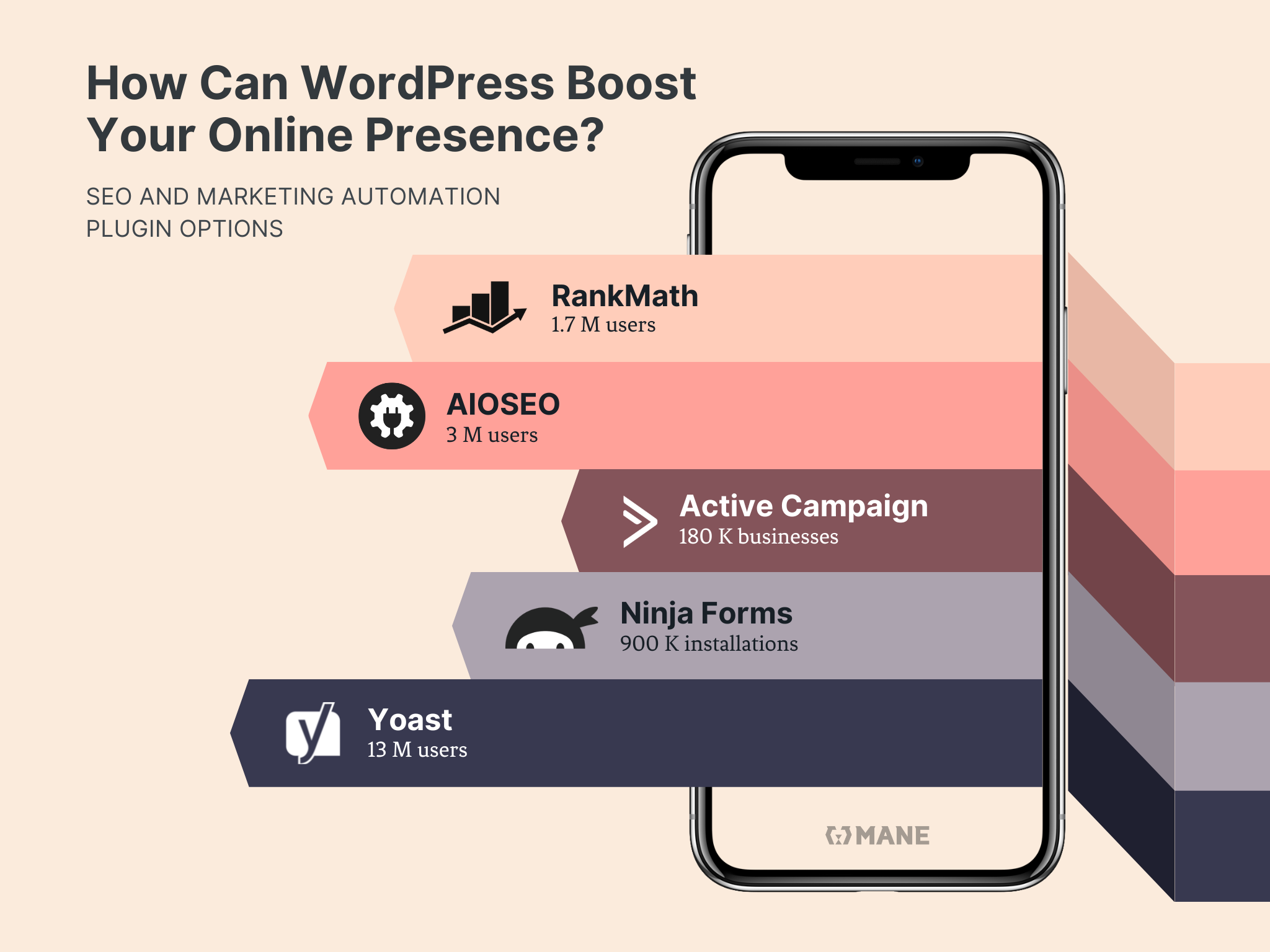 SEO and marketing automation options
How can WordPress Boost Your Online Presence?
Those paying much attention to their website's Google ranking often opt for the numerous WP plugins with SEO settings. Several SEO plugins (Yoast, RankMath etc.) are the most crucial parts of any solid WordPress website nowadays. They allow you to visualize the aspects you need to improve regarding your content so your website can reach a better position for the most competitive keywords.
Conversely, other plugins and extensions that connect WordPress and WooCommerce with applications for automation, like ActiveCampaign, and CRM platforms (e.g., SalesForce) etc., are well-developed and enable a full range of digital marketing options.
Webflow – Options for digital marketing tools implementation
Since there are no third-party plugins for Webflow, one must possess basic HTML and CSS skills to use its tools. However, if you can surpass that steep learning curve, you can create a website with clean code that runs smoothly and quickly. Plus, it gives you much creative freedom to create a website that you will love and impact the UX/UI design. Those are all the things search engines love to see.
Webflow vs. WordPress comparison
If you already possess some coding skills, then you might be able to reap the benefits of Webflow's SEO potential. Otherwise, it would probably be best to stick to various WordPress features.
Conclusion – Webflow vs. WordPress: The Final Verdict
If you are thinking about whether to choose Webflow vs. WordPress, we'd say that one of the most important things to investigate is your knowledge of basic coding skills. If you don't have any, it might be better to stick to the tried and tested ways of WordPress, although you can't make a wrong decision no matter which of the two you go with.
If you cannot decide or still prefer WordPress, contact us at Mane Digital, we will be happy to talk to you to help you make an informed decision.